My Back Yard
May 10, 2010
My back yard is much larger than most people's. It is about thirty-something acres of green grass and old trees. Here, we fight a continuous war against the likes of Honeysuckle, Russian Olive, and other sweet-smelling invaders. This yard holds many fond memories for me, and I don't think I will ever forget this wonderful place.

In one part of our little forest, there is a large clearing, surrounded on three sides by walls of green and a creek or two. In the center of this there is what much be the largest tree in our whole neck of the woods. Hanging from it's strong branches are two swings. One, a simple thick plank suspended by two chains, almost dares you to get on and take a leap into the light shrubbery. The other, on the opposite side of the Oak, is simply a square piece of wood with rounded edges suspended by a rope going through the middle. This is nearly impossible to stay on except by hanging on for dear life to the rope, not the swing.

We used to come out here a lot, my family and I. My brother would sit on the plank and yell as Dad pushed him through the cool evening air. I would cling onto the rope swing nearby, while my mom looks on as she pets the soft, smooth fur of our dog Sally. Eventually night would fall and we would be forced back inside by the legions of flying insects that would seek to bug us.

Now, though, we are starting to drift away from the simple times under that great Oak tree. Nights watching lightning bugs have turned to nights of watching Homer strangle Bart while Marge looks on. Summers spent laying in the grass are now spent lounging on the couch shooting us fascists of various nationalities. And the slow, warm tone of our life is beginning to turn fast and cold, spending late evenings hurriedly cramming for a math test the next day or perchance a last-minute typing of an English paper. Sometimes I think back to the times I have spent swinging through the cares of life as though they were nothing more than thin gossamers of uncaring darkness, and I was a knife of light, cutting them into strands of carefree joy.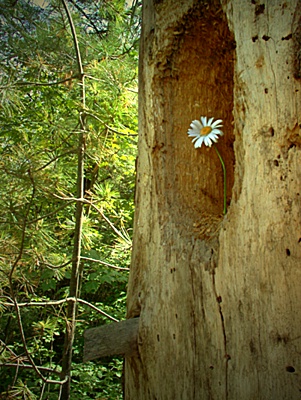 © Anna R, Sudbury, ON, Canada