Waiting for My Heart to Change
April 24, 2010
"You, over there," someone demands. "Stand between them."

I shrug. I could care less. But I have to stand between two guys.

Just my luck.

They're nice, funny, and sweet, and I like one of them, but he is talking to someone else. Another girl. Maybe flirting.

I turn away. This couldn't be happening.

****

Our group of "friends" walk to the beach. Some of them are close friends, while some are just people to me.

I wander around to some rocks off shore. A dock shaped out of rocks. I see a guy that goes to my school. I go toward to him. He is skipping rocks by himself. He's cute, funny, sweet, but a loner. He's different than anyone I've ever known. As soon as I want to join him, the group rushes to him. Then after a minute, they leave him. I go up to him and he says, "Nice view of the lake." I nod.

Then I realized what I just did. I changed. My heart was for a two- faced jock, but now it's changing.

What should I do? Who should I give my heart to?

I think I'm just waiting for an answer. But what's the question?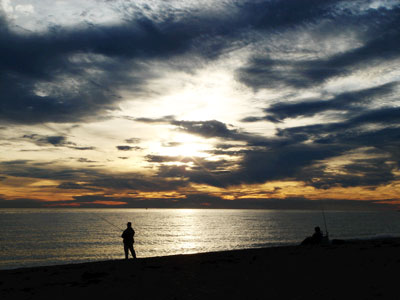 © Sarah C., Hillsdale, NJ