My New Life on December 14, 2007
March 26, 2010
A person, who suddenly came into my life, changed my life for ever! When I found out my mother was pregant, I was not that excited. I felt that another person in the houshold would just be a disaster. I thought to myself...there's nothing left except fight with another sibling. When mom gave birth to him, I relized that my life was worthless without him.
I remember it was two days before Christmas break and my mom was in the hospital the day before because she was about to give birth. It was also snowing very hard outside. It had been fairly normal week, and a routine, average day. It was Friday, and I came home from school in my black and pink sweat pants and a sweater. I got home and nobody was there except my older sister. "Im hungry," I complained. "We have lasagna," my sister replied. "No! I dont want lasagna, I ate some yesterday!"
"Ok! Order pizza, and get it over with!" she shouted. "Hurry go get it," I yelled. "Order it first you idiot," she began to snap. "Ok, but you are going to take forever to get it", I continued complaining. She ignored me. I'm sure if I spoke another word she would have smacked me. Finally, after about 15 minutes, she grabbed her keys and she left. When she got home we ate pizza, and some basco sticks. We were eating and in the middle of a movie, that i really enjoyed. Until my brother came in, turned off the T.V. and said "Come on girls; we are going to see mom."
"Uhh...I was in the middle of a movie," I shouted. "Hurry up! I'll be waiting in the car." he repeated about 3 times, beforeI actually got up. When I got up, I grabbed my jacket and headed outside. "Oh wait I forgot my gloves," I yelled heading back to the house. "Are you serious, your going to go back to get your gloves, knowing mom is in the hospital and just gave birth?" My sister hollered at me. "Stop arguing," my brother said "or none of you are coming!"
"Ok," I repied. I missed mom very much. She was gone Thursday night, and I felt like she was gone for a week. Anyway, as we were in the car, the window was rolled down, and I had my I-pod in my ears and my Nintendo D.S. in my hand. We then arrived at Oakwood, we checked through the main desk and headed to mom's room.
When I walked into the room, I stood there in amaement. A tingle surged throughout my whole body, for some stange reason. It was a rush of excitement I had never felt before. When my eyes hit his angelic little body, the froze and I couldn't think or acknowledge anything else around me. The world seemed to stop, and hold its place in time, just for that perect moment. While he was sleeping in his sky blue blanket, I stared at him. My hands quivered as I slowly reached down to touch his little fingers and feel the softness of his skin. I ran the tips of my fingers very gently across his smooth face, and right away, I began to feel the excitement I never though I would feel.
"You want to hold him honey?" I was ecstatic. I hel him tightly in my arms, and I was able to smell his fresh baby scent. I continued to stare into his gorgeous big brown eyes, and knew instantly that I would love and cherish him forever with all my heart.
Now here I am, living with him, which is amazing. He is two years old, and he loves to play with me. We have suck a close relationship. When I come from school everyday, he is usually staring out the window waiting for me. When he sees me walking doown the ally, I can read his lips screaming my name "AA-MAA!!!" (Asma). He jumps up and down on the couch, since it's near the window, with a gigantic smile on his face. Now, whenever I come home from school, he is the one that makes my day. We go out and play everyday at the field in front of my house, walk around the neighborhood, and I push him in his stoller on hot summer days. Whenever I am sad or angry, he is always there to cheer me up, and make me laugh. He is all that I need to make me happy. I love him very much, no words will ever be enough to describe how I fell about my little baby brother.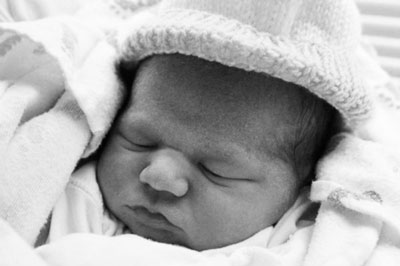 © Kaelee L., Petersburg, MI