Why...can't I have you?
March 19, 2010
The truth is, I like you. The truth is, I want you. The truth is I need you.
The truth is, you want her. The truth is, you love her. The truth is, you think you need her.

That's what i say to myself every time I vist him. It's dumb to think the way I do.
I know he won't ever want me. Look at me, or even think of me the way he thinks of her, every second of every day. I don't know what it is about him that makes me want him more.

I think the saying of how, you always want what you can't have, is true. And just to inform you, I've liked this boy for about 2 years already.
We call each other "amigos". That means freind. I don't want to be his freind though. I want to be more than that. I want to be able to kiss him and hold his hand with out feeling bad about it.

I want to think of him and talk about him, without having to watch what I say because I might get introuble. He's taken and I can't have what someone else has.
MY feelings for him are bursting so much these days. I was able to hold it in for so long, but not anymore. It's time for me to let everyone know how I really do feel about him.

But the case here, is no one can hear me behind that closed door.

I know you might be thinking, Omg! Why is this girl always thinking of him? Why is she doing this to her self? She needs to get over it, He's taken.

Oh believe me, I ask myself those question everyday.

The sad part is that I talk to him like if we were dating.
Oh and when we're alone it's like we are together.

He touches my lips. I touch his lips. He sings to me. I sing to him. We lock our hands together and all I can wish and think is, why aren't you with me?

Since you know the sad part already. It's time for you to know the crazy,insane and shocking part.

Who is this guy she likes so much? Who is this guy she can't stop thinking about? Who is he?

He's my sisters boyfriend.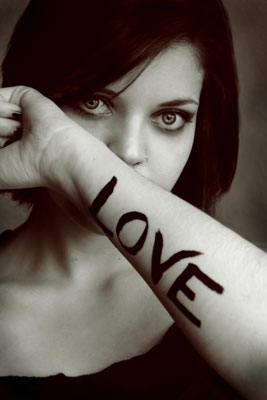 © Michelle B., Blairsville, GA