Red Ribbons
March 18, 2010
Four years ago I had the privilege of weeping openly during a service in New Orleans. Our church had gone on a mission trip and every evening we would sit in the auditorium of the seminary and sing and forget. Tonight was the last night. The speaker stood near the back, and in the darkness I could only see his hands fluttering like bleached doves beneath the ultraviolet light. His voice sounded out through the auditorium but the decibels held some undercurrent of sadness:

—And the kid said how much, and then he had paid and took the bag home. He kept it under his bed and wanted to share it, he told his friends about the purchase, but for some reason they had sort of looked at him scared, like this was a dare never truly done. So the bag stayed under the bed. He kept using it as a threat, or no, just a way to get into the crowds that bluffed about it. But he never showed it to anyone and people thought this virtuous kid was going through a phase. Until one night he was invited or at least heard about a small group of people meeting at a house to, you know, hang out. No drugs or alcohol were mentioned. But of course the kid…he thought, or didn't think, that this was a chance. So he smoked some and pictured the people laughing at his red eyes and said it was good. And…sorry…he drove his truck, and he…he hit a car that of course he couldn't see…couldn't see anything, spun the wheel and heard it before everything else. He climbs out…and…the other's guy's—he's dead. He's just dead…laying there…and…I, I am the kid….

His hands now hang lifeless as birds caged behind unseen bars. And for some reason I muster all my strength during this soliloquy to prop up against the wall and cry. As we pray I choke and for the life of me I cannot see. I imagine myself becoming blind; I feel pressure on my shoulder and turn around to see a boy my age, using his arm to both comfort me and support himself. I wipe my eyes and look around and everyone is in various states of grief: people huddle and clench hands and stare at the ground. The man begins to speak again.

Looking back I wonder why we all felt so deeply for a man we did not know. It may have been the culmination of the days of services, but those were lighthearted and meant to relax us. I had been in private school and the issue of addiction was not so much explained as avoided. I felt for the victim who had died within the wreckage. But the older people in our group told me later they identified with the addicted speaker. Maybe they had known someone who had fallen in such a manner—or at least was heading in the same direction.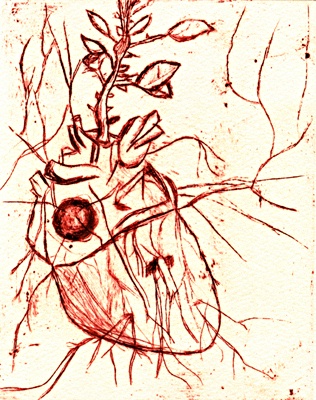 © Elaine S., Phoenix, AZ