All in Time
February 8, 2010
As I looked past the crashing waves, it seemed as though the sapphire sky met the sea-green water in a friendly embrace. Perched on the 12-foot dock as I have many times before, I swung my legs in time with the ABBA music ringing from my headphones. Watching my sister and mother splash in the early morning tide, I felt an instant pang of excitement. Whipping off my headphones into my beach bag, I jumped fearlessly off the dock into the warm morning water. Once I surfaced, my eyes met the sienna colored sand covered in coral pink shells. My heart started racing as my fantasies turned into reality. My trip to Cocoa Beach, Florida would be one like no other.

Adrenaline pulsed throughout my body as I stroke towards the sandy turf. With the orange sun shining brightly behind me, I run towards the dock for another round of fun. Seagulls swarm around a fearless crab, defending its life with its deadly claws. To prevent splinters, I slip on my Jelly Belly flip-flops. My mom yelled after me, "Stop running! You'll fall!"
Just as my mother had predicted, I tumbled toward the decayed wood, right onto my knee. Pain jolted through my body as I cradled my knee in agony. After a few minutes of horrid pain, I limp down to the edge of the dock, where my beach bag lies. As I was opening my bag to retrieve my cell phone, my sister, Olivia, leaps into the water and shouts, "
CANNONBALL!"

Right as I turn to look in the water, I slip off the edge and start tumbling into the wild water. As I tumble down, I get a glimpse of my mother's shocked expression. Falling into the green waves, I feel a brilliant sensation throughout my body. Once my back hits the water, I start towards the top. My knee throbs with the salty water piercing the cut. My mother topples through the waves to reach me.
"Its time to go back to the condo. You need to get a bandage on that knee," explained my mother.

I nod in agreement, knee still hurting. I rest my head in her billowing, bleach white, towel cover up. With the sun gleaming overhead, I limp back to the condo for a nice nap before lunch.

When I wake up, I hear my sister getting ready for lunch at the beach. As my mom packs the cooler with Quizno's® sandwiches, I groggily climb out of bed to retrieve my swimming suit. Once I have my swimming suit on, I lather up in sunscreen, pull on a large t- shirt, and slap on a wide brimmed hat. I had a feeling I was not going to go in the water today. Boy was I wrong!

Once we pull into the parking lot, I help lug the cooler, towels, and umbrellas down to the shore. Sitting in my usual spot on the dock, I lay out my towel. As I lay down, I feel the starchy condo towel rubbing up against my sunburnt back. My sister flops down on the towel next to me, swinging her legs over the edge. With her, she brings our cooler, stocked with savory turkey sandwiches. While we are eating, an airplane whooshes right above our head. Connected to its tail flails a sign saying 'Come to the dock 2nite! Fun and games for everyone! Starts at 7 pm and runs to 10 pm. Don't miss it!'

Once we finish eating, my sister heads down to the water. Still sitting in my favorite spot, tummy full, I decide to take a little nap. I fold up my bag to act as a pillow. Since I brought two towels, I use my extra as a nice little 'blanket'. Since I put on sunscreen when we left, I did not worry about getting sun- burnt. When I get comfortable, I fall into a deep slumber, waves crashing only 12 feet below me. Now how many people can say that?

A few hours later, I wake up to find the sun cautiously starting to creep down into the horizon. Looking as it did when I came in the early morning, I slowly sit up to look out at the beautiful ocean. When I sat up, something did not feel quite right. I look down at my arms and to find a bright pink sunburn slapped across my body. I knew I should have put on sunscreen. I pull out my phone from my beach bag to check the time. The clock reads 6:33 pm. My sister and mother are down in the water, splashing and playing with no care in the world. I slowly sit up and crawl to where I can hang my head over the edge. I yell for my mother

"Mom! I got sun- burnt! Do you have any aloe sunburn gel?" I ask her.

"Yes, I do. Look in my beach bag," She replies, laughing with my sister.

I hop over to the car, where my mother's beach bag is stowed. Inside of it contains a few crumpled dollar bills, sunscreen, towels, a hat, and buried underneath it all lays the sunburn lotion. I quickly snatch it up and lather it all over me.

After I cool myself down, I hobble back towards the dock, up the stairs, and onto my slightly drenched towel. I lower myself onto the white fabric and search through the contents of my beach bag. The bag contains my cell phone, sunscreen, an iPod Touch, and a flashlight for spotting crabs at night. I grab the flashlight and walk slowly towards the stairs. Once I am down the stairs, I turn and start towards one of the smaller docks stations along the beachfront. I pick one that has no people on it. I turn on the flashlight and shine it down on the water. What I see is nothing like I have ever seen before. Colossal pods of crabs scavenge the angler's pots for leftover calamari and salmon. Some are blue, some are red; the variation is unbelievable.

I shift and run back towards my mom and sister, who are sitting in the car, treating their sunburns while my brother and stepdad are running over to the dock where I just came from.

"Come quick! I found crabs!" I seem to shout at them.

The expression on their faces tells me exactly what they are thinking. As we run over, we see a crowd of people starting towards the same dock. I start sprinting and I cannot stop! I feel like Forrest Gump when his leg splints shatter. My legs move so fast I can hardly control them!

My mom and sister walk slowly back to the car. I sit on the hood and look out at the spectacular waves.

"Time to head back. It is almost 11:30," my mom sighed.
I take one last look at the magnificent ocean and bid it farewell, for it may be awhile until I see its beauty again.

As I look over that dock the next morning for one last time, I remember the awesome times I have had this past week. From the crabs to the splinters, it had been the best vacation yet. With the sun rising overhead, my mom calls for me to get in the car heading towards Orlando International Airport. Staring out through the crystalline water, my heart sank as I look out at what I'm leaving. I may come back next year, but, I take it all in, because, there's no time like the present.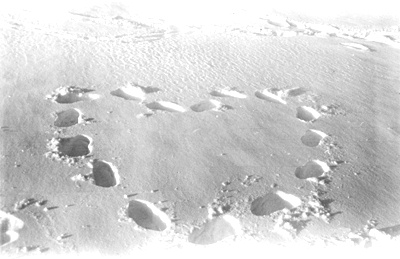 © Kim B., Marblehead, MA