YB : Simple
January 30, 2010
This is dedicated to my first love.

Hey, Youngbin thinks your pretty cute.
Yeah dude, YB thinks your pretty hot.
You should give him a chance!

I hear the chatter amongst me but it begins to distance. Were they serious? He was the most unattractive guy here. In fact, Brian, a little overweight, could easily be labeled "cuter". Wow, was this all I could achieve? This tawny little kid who's 5'4 and has a mushroom haircut? And not to mention his posture. No masculine aura whatsoever. As I curiously stared at him across the tennis court, he nervously glanced to my direction. I felt a state of disgust. I smirked hoping to God he would get the point. He didn't.

The next day it was 2 in the afternoon and the summer day was awaiting. Diana, my friend, and I entered West End, a revolutionary gym. We headed to the tennis court, where Diana would meet her crush, Ryan. Diana was absolutley head over heels with Ryan and as a loyal friend I of course had to follow and play with Ryan and his friends. Just one thing - Ryan was YoungBin's brother! That crazy guy with that crazy infatutation. I was looking at him but I knew he was sneaking in a few glances. I snapped, looking back at him once he glanced at me. He twitched with anxiety. Gross.

I couldn't take sitting there with my flirting friends on my left and the stalker to my right. I fortunatley had my bathing suit on, so I excused myself to take a dip by the swimming pool. An hour passed and I got bored. As I came out of the swimming pool Youngbin was waiting there. Like a dog. What was I going to do to get rid of him?!

"...I will never give him a chance guys. Wow are you guys seriously my friends? Why would you even put this pressure on me? He's so ugly just look at how he stands! Unless he gets plastic sugery or somethin there is no chance he will ever be anything to me. I don't even want to be his friend that weird ass stalker!"
As I finally snapped to my friends who would constantly bring up Youngbin, I hear a tennis gate open. I turn around and see Youngbin, his face pale. Walk away. Who knew what catasphrophic events were to occur.

The next day I was walking out of my apartment at 8 o clock in the morning, ready to swim once again. Oh wait. I had to pick up some papers thst Ryan had to borrow from summer school. I dialed the number on my phone and walked to his apartment. Did I tell you we all live in the same compartment? As I called, Ryan picked up and told me he'll be out in a minute. The door opens and I begin to say "Fianlly - " when it isn't the face I'm expecting.

It's Youngbin.

My conscience is getting to me. You got to give it to this guy. You basically bashed him yesterday and publicy humiliated him in front of his friends. And Jesus, he still likes you despite all that.

A warmth spreads throughout my body. Guys usually gave up the next week since they found me intimidating - but look at this guy go. I was finding it a bit flattering.

So I didn't yell at him like I should have. Nope, I didn't even avoid him. I took the papers from him and said thanks. THen asked if he would like to go swimming with me.

Day by day, he began to prove himself to me. We first became accomplices. I told him to lose weight since I was just blunt like that. I remember one day I stepped out of my daily routine and visited West End at 9 o clock at night seeing Youngbin vigorously work the treadmill and sweating profusely. He didn't see me, but I saw him. I didn't just see him literally. I saw him.
I told him to get new shoes. The very next day he rang my doorbell showing me a pair of his green vans. Then his checkered vans. Later blue converse. I saw his blissful smile as I approved with my smile.
Then there were haircuts, change of style, change of behavior. A sense of greater motivation (he ran to 7/11 at 1 o clock to buy me a hotdog). He was becoming my best friend at the same time. He wasn't that shy little boy. He was now a man in my eyes and I fell myself falling for him.

Everyday was a new day for me. I felt an new high, a new exhiliartion, a new everything. People questioned my love. Was is real? Can that heartless girl love? Props to YB, never knew he had it in him.

"You're the first girl I ever liked since first grade."
"You have the perfect face"
"You have the prettiest hands"
"I love your laugh"

Never cheesy, never too sweet. Never too complimenting. Never too gross. Never anything like that. He never said I was hot or sexy. None of that. Secretly, I liked that. I knew I meant everything to him but he showed it as if I weren't. I couldn't believe how hard I've fallen. We were meant for each other. Forever.

Or not?

The fallen promises, the broken whispers. The stained tears. Disdain. Disdain. Disdain.

He sensed the tables have turned. I fell more in love with him than he had with me. Was he scared? He ended it the next day.
It isn't you.
What is it.
It's me.

His lost interest made me crazy. It drove me insane. I began to hate him. I spread ridiculous rumours but enough so it was true. Still, there was no satisfaction. At the end of the day as I entered my bed my heart was broken. And I wanted him back.

but he isn't coming back. He never is.


But I wait.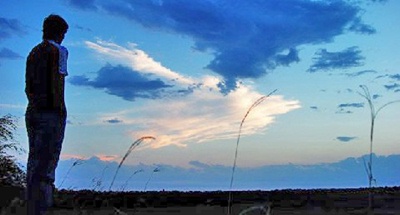 © Stefanie K., Katy, TX