A Towering Beast, Like No Other
January 19, 2010
"Okay, so we defiantly want to go on Saturday?" my dad asked. "Yeah!" my brother Doug and I replied. "Okay…" my dad said. Right at the moment my dad clicked purchase on our computer, I knew my dreams of riding King Da Ka were finally going to come true.


Before I knew it my dad was trying to wake me up from deep sleep. It had just hit me, it was Saturday. The rain poured heavily from the cloudy skies, but I wouldn't let our chance slip away. Doug slowly walked out of his room. I could tell a sick feeling took his body over when he was asleep. "Do you feel alright?" my mom asked with a worried voice. "Yeah…I'm…fine…" he said hiding back his sniffles. "I don't think you can come," my dad said as he felt my brothers forehead. "Your face is burning!" my dad added.


It turned out we had to go without him. Just me and my dad. Thinking about it now, he would've been lousy and not have been able to make it through the day. In the car I had visions of King Da Ka. The tallest and fastest rollercoaster in the world. I needed to ride it. I thought about how high up I would be. My mouth hung open. All the way there, I was half excited, half scared. We came closer and as the clouds were clearing, I could see the top of the monster coaster. As we pulled in the parking lot, the 454 foot giant towered over us. "Hey, its not that bad!" I said. Looking back on when I said that, I had no clue what I was in for. As I stepped out of the car, the test run had started. It whooshed by me in the blink of an eye. I almost peed my pants.


We walked into the park and got our Flash Passes. With these we could schedule our next ride before we rode it, so we didn't have to wait in line. We decided that Superman would be our first ride of the day. As you sit in the chair it flips you so you are facing the ground. "Dad, if I'm scared on this, how do you expect me to ride the biggest in the world?!?" I yelled. I knew in my heart that I was going to have to ride it. It's been my dream! My main reason for wanting to come.

All morning I felt as if the towering 454 foot beast was watching over me. While in line for the Great American Scream Machine, he said it. The words I once so badly wanted to hear. "So next is King Da Ka?" my dad asked already knowing his decision. My mouth said no but my mind knew it was time… "O--kay," I said choking on my words. Before my mind really had settled on the idea we were off The Great American Scream Machine. As we walked into the line of King Da Ka, I almost cried. "Wow, look! You don't even have to wait a minute! You can get on right now!" the line attendant said pointing out the obvious. "Yay…" I replied sarcastically.


We sat down, on the tallest and fastest rollercoaster on the face of this planet. The car moved towards the "on deck" station. We watched the car in front of us. "Head back, feet in, HOLD ON!!" a recording said coming out of the speakers on the side of the track. All of a sudden we hear a click from the car in front of us. Silence. Silence. Silence. It just hit me, I looked around, everyone was an adult. This was no kids ride. The train in front of us was shot up. 128 miles per hour. Straight up into the air. Scary thoughts ran through my head. What if there was a rollback? The gigantic multi-ton rollercoaster cart coming straight back down. What if the brakes don't work? It happens. Freak accidents. Death. It happens. My heartbeat grew strong. Almost pounding out of my chest. "Please," I prayed to myself. It was too late to turn back, it was our turn. We moved a little. "Head back, feet in, HOLD ON!!!!!" the recording repeated. "Holy mother…" my voice turned into screams. We were moving. FAST!! Before I could think about how fast we were going, we were already on our way up. It was unbelievable. Once we reached the top, I decided to look down. The other rollercoaster's looked liked kiddie rides. You could see thousands of little specs. We rounded the top. On our way down. Air pushing past my face, shaking me in my seat. Spiraling down. Plummeting to the earth. All of a sudden, it stopped. It was over. I had done it. The feeling of accomplishment. The feeling of excitement and adrenaline, rushing through my veins. "Now that was awesome!" I screamed to my dad. I overcame my fears, and now nothing could stand in my way.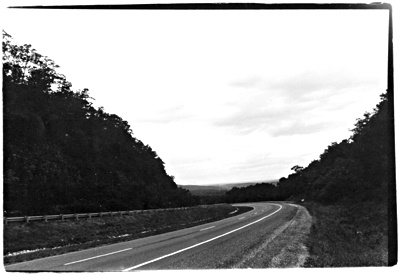 © Courtney R., Great Falls, VA