LEARNING SOMETHING NEW
January 11, 2010
My mom picked me up and sat me on the kitchen counter hard. What I do? I thought. I must of done something wrong.

"Pay attention," my mom said.

A few minutes before I had told my mom, "abrrochame las Cintas'' before going to school. I remembered standing in the middle of the dining room with my Pokémon backpack pushing down against my shoulders, with washed out blue jeans as tight as they could be. At that time my mom was washing the dishes rubbing in circles with what was suppose to be a yellow sponge but it looked green because of the use. I could still hear the water running as my mom approached me.

That's when she got frustrated and sat me down. She showed me how to tie my shoelaes. Of course, I didn't get it right the first time or the second time. I felt disappointed in myself for not being able to tie my shoelaces. It wasn't until the 11th time that I learned and with every failing time she even got madder. I could see the wrinkles between her eyes starting to form as she got madder and madder. Till I learned it's when her lips started to form a smiling face. I remembered being all happy, showing everybody my new skill, even in school I would tie somebody else's shoelaces

As a result of all this at the very end I now know how to tie my shoelaces. It's not very complicated I just had to pay attention to what my mom was showing me. I changed from being a little boy who asked my mom to tie my shoelaces every morning to a little boy tying everybody's shoelaces at recess.

Do you remember who thought you how to tie your shoelaces?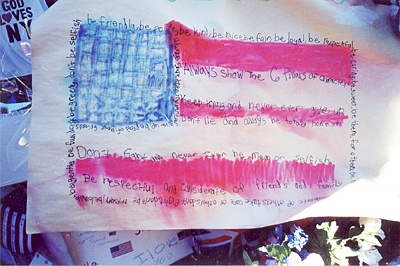 © Ashley F., New City, NY