Hospit-All Out War
January 7, 2010
'My stomach is hurting like crazy…I need prescription!'

My older brother felt a little woozy, so like any other compassionate sister, I recommended a visit to the hospital for some good 'ole doctorial advice on how to injure the issue. My male kin remained nothing more than unwilling, initially, for he despised the twenty dollar co pay. Mother-of-mine tells me that when I was smaller, I hated the hospital for some reason; and evidently, I had vowed to never again allow my feet to plant themselves in the grounds of this medical field. I couldn't possibly understand why…I loved the smells, the tall, awkward physique of my long-running man-nurse, and the broken suckers as compensation for sticking an oversized Q-Tip down my throat. Regardless, medical consultancy was best fit. Our family had the insurance so by golly, we were going. However, all of in the insurance in the world couldn't prepare me for what sickly adventures I would have to endure, testing my endurance for a combat that literally lied within.
After our own little health care debate regarding co pays and cynical attitudes towards the doctors, we made our way to the hospital. Stepping through the doors, I happily ran to the elevators, following the scent of miracles in the making. A settle brrrinnng coaxed us out of the machine, to the fifth floor, where I was pleasantly greeted by a children crawling parent-free, exploring the depths of the hospital grounds. I sat. My mother and brother continued their walk to the check-in table where the secretaries were exposed to the best germs the town has to offer.

Just then, a pleasantly plump gentlemen, by the name of Theodore, (according to his germ complaint) sat in the chair directly across from me.
'S-T-R-E-P-T-H-R-O,' he carefully spelled upon his sheet of paper that reminded me of a complaint to the manager. The manager in this case was the doctor and complaint form was in depth consisting of fields for medical history and all allergens. A fair distance, no more than six feet away, was the very reason I could suddenly remember, I had vowed never to step foot into a hospital again. As if slowed down in purpose of creating an unnecessary suspense within me, Mr. Pleasantly Plump drew out a tissue from the abyss of his shirt pocket, blowing into it forcefully. My jaw dropped as my eyes bulged in disapproval of his haughty release. The mucus eventually found its way to the hospital carpet, and I instinctively brought both knees to my chest, clinging to them for dear life. My eyes searched for the enemy's weapon of choice. No sign. How foolish of these people to propose carpet instead of tiles for a waiting room. Billions of germs probably dwell underneath my feet! Why did I even come here?


What seemed like hours of cover from opposition actually presented about five minutes, as my poor mother and brother continued their quest in line for a germ complaint. Such poor fools. As they stand in line, germs crawl up their clothing, seeking shelter in their pores for the next signal of attack. I love my family to death, but as for now, every man for himself!
With this, I saluted my kin as well as Mr. Pleasantly Plump. I wasted no time in waiting for the elevator, as I was sure traced of mucus slithered ate me in their attempt to finish me off. Not five years ago and not today. Running down all five flights of steps, careful not to touch the rails, I thanked God for automatic doors as without them, my entire mission to evacuate would be obsolete. Using my pinky to open the car door, I confided in my secret stash of hand sanitizer, and I had nothing more to do than wait for the fate of my beloved kin.
Minutes passed as the rate of the blood pumping at my soul decreased gradually back down to the intended. The sanitizer had not only cleared away the possible germs dwelling in the tops of my skin cells, but the layers of selfness which had cumulated like fragments of blown sediment on my skin. I was almost ashamed as my mother tugged at her chrome vehicle in which I had sought shelter.

'Nisa? Are you alright? Why did you run out so quickly?' My mother questioned, still on the other side of freedom. I unlocked the door with haste and pulled her inside.
'I am now. I had to get away from that horrid place; with those germs crawling everywhere, trying to make me sick!'I retorted. 'It's too much for me.'
'Now Nisa, while I condone your unnecessarily dramatic adventures, I'd call it a little selfish what you did. If there had been presented some other kind of fire hazard or threat, the rest of us would have been stuck there, while you saved yourself. Now, that's no fun. Think about it.' Her words cut me deeper than any scalpel ever could have managed, and sunk through my skin to my blood cells, in a chained virus. Oh, the irony! The enemy had prevailed.
In ponder in the same vehicle in which I had made my escape. I had fallen victim to the enemy, but ironically enough, it wasn't the paranoia of falling ill, but the every-man-for-himself; attitude I had possessed. Since that gloomy day, no longer am I quick to run at the foot biological danger, but to hold back, take a look around, and wait for my brothers, my sisters, and my fellow soldiers.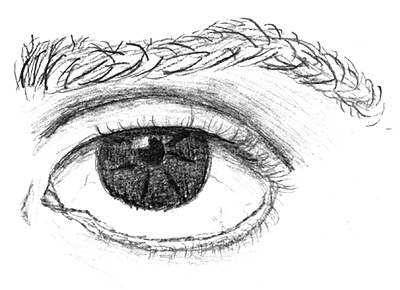 © Anthony R., Wilmington, MA