Egocentric
December 22, 2009
I can pinpoint the day it happened. It was after sunset on October 30th, 2006. I was in the 8th grade. I' d gone downstairs to ask my mom to do something small for me. I no longer remember what it was, but I do know that it was a little thing. And she'd been struggling for the VCR for half and hour, so I'd given her some space for about 10 minutes. I was standing behind our beige, J-shaped couch, and I voiced my request. As soon as I asked it, the atmosphere in the room changed...it was bad, and I was scared. I regretted ever opening my mouth, ever even considering asking. How she started, I don't remember. How she built up steam, I can't say anymore. But before long, she was throwing words as me with every breath she took. Egocentric, selfish, lazy, a pity, pathetic...
As a kid, I was always the shy, slightly-different girl. And I was picked on a bit, for being fast, sensitive, and a brainiac. I never really noticed, until I started to want to make more friends. Then, it became clear how different I was, weird and nerdy. So I did what any 6th grader would do. I re-invented myself. It was awkward at first, but soon became second nature. And I got my friends, the boyfriends, sleep-overs and movies. I thought I was truly going to be okay. I might even be special.
And, not two years later, my mom's words brought everything crashing down. Egocentric. Egocentric. Egocentric. That word is stuck in my mind forever. It's the word that scarred me and also changed my life. Because right after it came the phrase that brought about my act. "You are the worst example for your sisters. Do you ever think about them?"
My sisters. My two younger sisters; Rachel, then 11-blonde, naive, sweet, sarcastic, lovable, laughable. Alyssa, then 7- athletic, impressionable, curious, pretty, spunky. Do I ever think about them? Not so much before. But after that night, they were my reason, my drive, and my responsibility. Because that night shattered my life. It opened my eyes. My mom was never there for us; often, she was against us. Nothing we did was ever satisfactory for her. Things were always wrong somehow. And now, I came to the realization that she didn't care, either. I was a thorn in her side. I was nothing that I hoped I was.
That night, those words; they were my destruction. But they also were my fuel, my determination. I would protect my sisters from this. I would not let my mom make them hate themselves, like she made me despise myself. I wanted them to remain blind to my mother's attitude towards us. I helped them with the homework that my mom told them to "figure out for themselves." I made the meals that my mother wasn't there for. I consoled Allie when she's alone in her room, and I advised Rachel on boys and social drama. I get good grades to make them proud to have me as their older sister. I work so, someday, I can grant them their biggest dreams. I take the blame for dirty dishes, messy bathrooms, leaving the TV on. That way, her anger goes towards me, not them.
I thought I was doing such a good job for almost two years. And then came that night in September 2008. My dad had a tough day at work. We had soccer the next morning. He asked if we all had our jerseys, and we all replied that we did. But ten minutes later, he came down the stairs, Allie's jersey clenched in his hand. It had been in the hamper. He began to yell at her as if she had killed someone. It went on for twenty minutes. And what did I do? I did not tell him to stop. I did not say that I had put it in there. I sat there, on that beige J-shaped couch, listening to him tear her apart. He stomped upstairs, fuming, but she remained there, on the second to last stair, shaking. Then she bolted upstairs, into her room, shutting the door and throwing herself to the floor before I could hear the sobbing and choking.
I found myself outside in the cold, sitting in a ball, tucked into a corner of the second-story balcony. My face must've been wet, my bare feet freezing, but my mind was screaming too loud for me to notice.
Why God, why? Why? Why???!!! Answer me! I tried. I have practically given up my life to keep them from this! Every day I prayed that you'd save them from what I went through. I seized every opportunity to keep this from happening! I gave my all in trying to make everyone happy! Why!?
And I sat there, for several minutes, in the cold. Wondering, thinking about how I had failed. Tried my best, and it wasn't enough. So it was all true. I was a failure. I could have stopped him from screaming at her like that. But I didn't, because I was scared. I was brought back into my own memory of my mom's tirade. I was afraid that my dad would tear me up even more. I had refused to take her place. It was all true. I was selfish. Egocentric.
Without even making a conscious decision to do so, I got on my feet and went inside. Down the hallway to the white door, knocked and went in. Allie, dressed in her pajamas, was sitting in the middle of the floor, picking up clothes scattered across the carpeting. She looked up at me, wondering why I was there.
"Are you scared?" I asked her. She nodded, bit her lip, and a tear fell off her face. I put my arms around her and she cried into my baggy sweatshirt for 2 minutes.
"Me too," I said. I was scared. Scared at how much I hated my parents for doing this to her, for having done it to me. Scared that Rachel would be next. Scared at how determined I was not to let it happen again. Scared at the lengths I knew I'd go to in order to save my sisters.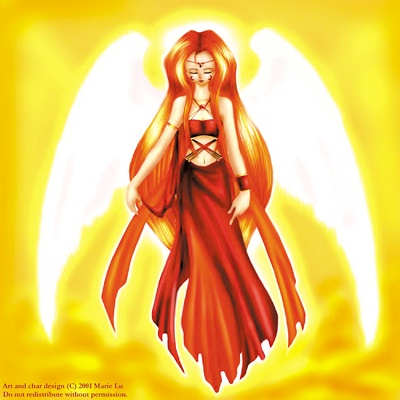 © Marie L., Sugar Land, TX