A Call in the Night
December 2, 2009
How do you know when a person has officially become your "best friend"? When I was in early grade school, it might have been shown with the exchange of BFF necklaces or the number of times you have sleepovers together. Things are different for me now. The person who I consider to be my best friend has never received any type of jewelry from me, and we have certainly never had any "slumber parties" like I would have in fourth and fifth grade. This friendship started with something simpler, teammates. We both played on the UA/St. Xavier Ultimate Frisbee team last year, where for once in my life, I had to learn how to really talk to boys. In elementary school I was always too shy –not to mention boy-crazy – to even understand the concept of being friends with a guy. While playing Ultimate together, or even later when we began to text and talk on Facebook chat, I never really considered him my "best friend." This was the same even during the summer when we texted routinely every night. I can pinpoint the exact day when he transformed into my true best friend, down to one phone call made in the dark.
On September fourth of this year, my family left for our lake house as we always do on Labor Day weekend. We were kept busy all day with skiing, tubing, and roasting marshmallows over the campfire, so I never really had much time to recognize the importance of the date. For this reason, I was shocked late at night, when my sister, who was sleeping in the bunk above me, started to cry. She explained that that day, six years ago, our mom entered Hospice, and we were told that she was going to die. One week later, she did.
The memories running through my mind kept me awake that night, even long after my sister and her friend – the only two other occupants of the girls' bedroom – had long since drifted to sleep. I pulled out my cell phone to check the time, and absent-mindedly checked my text inbox. The text I looked at was from my friend, after I told him about my mom. He said I could talk to him any time, even if it was three A.M. It was a little past two in reality. Well, I thought, I guess I will test out that promise then… And with that thought, I texted him.
He was awake, thank God, and once I explained why I couldn't sleep, he asked if I wanted to call him. I did, but what I didn't want was to admit that. It was pretty late, and my family's lake house was fairly small. I was afraid that I would wake someone up. Besides that, my friend was in college, with his roommate asleep, so he would have to leave his dorm room if I called. I didn't want him to know how weak I was, that what I needed most was to just hear a voice – any voice – tell me that it was okay to be sad. I needed that acceptance.
After a few minutes, I asked if I could call, if that would still be alright. "Anytime," he replied. I lingered by the back door before sneaking out, jumping slightly at the loud squeak the sliding-glass doors seemed to shoot out into the night. I rushed outside with a glance at my parents' still-closed bedroom door, and sat looking over the lake with my back against a tree. I dialed his number slowly, with nervous, quivering fingers. I felt like I was breaking some kind of unspoken rule, but all I wanted in that moment was to break it. For the first time in my life, I snuck out of the house without my parents knowing it, in order to call a friend that my parents didn't even know that well. The phone didn't ring long before he picked up. I knew in the first second that I heard his voice that I had made the right decision in calling him, even though I felt guilty about making him go into the hallway to talk, and I still didn't know what it was that I wanted, needed, to talk about so much.
We talked for only a brief amount of time. I was only outside for a total of maybe ten minutes. To any outside observer, nothing important came up in that conversation, yet at the same time for me, something huge happened. When I hung up the phone, saying again, "I don't know why I called…", I was happy. I was able to go back to bed and fall asleep, and I didn't cry once again that night, or the next, or even a week from that day, when it was 9/11 again and I was reminded again of my mom's death day. I could honestly say that I didn't know exactly why this year was so much easier than most, but I did have a vague suspicion. I never was truly alone, but this year, I really knew I wasn't. I knew that even at three o'clock in the morning, I had a friend who I could call. I just had to dial. So that is how I found out who my best friend was, and still is. My best friend is the person who would listen to me talk about nonsense, simply listen, even when they would probably rather be asleep, just to remind me that I am never alone. No BFF necklace could compare to that.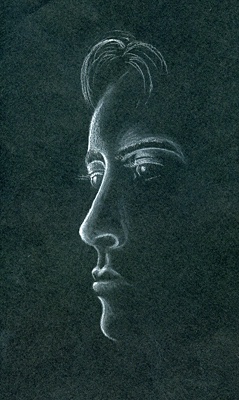 © Carlos S., Glendale, AZ