Worst Day Of My Life: Lunch In The Bathroom
November 18, 2009
Have you ever gone to a new school and it just made you feel sick? Did you feel uncomfortable when all those kids stared at you? Did you know the rules, or have someone to sit with at the lunch table? If you did, then consider yourself lucky. This is my story of going to a new school, meeting new people, and having a date with the bathroom during lunch.
The summer of 2005 I moved to my new house in SeaTac from Kent. (Just thinking of it gives me heart breaking memories.) I felt devastated when my mom told me that I had to go to a new school called Valley View Elementary. It was only a block away from our house and she said it would be a good experience for me because I could make new friends that lived in the area. My mom meant well. But I just despised going to new schools and not knowing anyone. New schools just make me sick as; sick as if I had just eaten 200 hot dogs. (Going to a new school made me feel lonely, nervous, and uncomfortable.) All those new kids, new teachers, new classes! Ugh! Don't make me go farther, I just might puke on the keyboard. New school anxiety is just too much for my short life.
When I went to my class everybody (and I mean everybody) shared love with hugs and hand shakes with one another. I thought I was at a hug fest! Everyone knew and missed each other but me, I was all ALONE. My teacher, Ms. Drum, who always smiled (even when she full of anger), told the class to go to the meeting area to play the most embarrassing game a new kid could ever play; "The Name Game." Sure it sounds innocent. Maybe it could give me time to learn people's names and introduce myself, but when it got to my turn out of sheer fear all I could do was softly say, "Pass" like a baby saying his first words. Ms. Drum didn't accept my response and put me on the spot to say my name; my full name. I didn't want to say it because one of my two middle names is a girl's name! So I said it as fast as I could. Khayree James KayCee! Everybody started to giggle. Embarrassment filled the air, but I just went with the flow and laughed with them. Then Ms. Drum with her creepy smile said, "Thank you Khayree for sharing that with us." That reminded me of being in kindergarten when I also had to share my name with the class. Back then (in kindergarten) I didn't even know the rest of my name! I only knew my first.
Going on with my story, it was recess and kids came up to me and started to call me KayCee. That made me feel bad, but I just walked away. I had no one to play with all recess so I sat in the library for the whole 25 minutes. After recess the class had to say who they wanted to sit next to for the year, nobody said they wanted to sit by "KayCee," so Ms. Drum made me sit by this really stinky kid named Jordan. He smelled like a gathering of skunks! If I had cologne I would have given it to him.
At lunch time all I wanted to do was go 30 minutes without doing or saying anything that would embarrass me. I walked into the cafeteria and just looked around. Some kids were laughing but I wasn't sure if it was at me. I walked passed every table and there was not one open seat for me to sit in. Finally I walked to the bathroom, sat on the floor, opened my lunchbox and ate my lunch with loneliness. A couple of boys walked in and they were laughing. I felt sad. I thought I already had enough people laughing at me for one day but I guess not. I had lots more in store for me. As I finished my lunch I went into the library once again and read a book. Captain Underpants: and the Man Eating Toilet.
When recess was over I went back to class. I noticed that one of the kids that had been laughing at me in the bathroom was in my class! I got nervous; as if I was going to a doctor appointment (I hate NEEDLES!). I put my head down and thought to myself, "Man, this is the worst day of my life." I kept my head down for at least 45 minutes- until the day was over.
I walked home with tears coming down my face. My mom asked me how my day went, and I said, "It was fine," but she could see the tear stains that were on my face. She told me to sit down and tell her what happened. During my dramatic tale my mom came to an uncomfortable silence as I said I ate in the bathroom. Her silence made me want to cry all over again. I went upstairs and sat there in my room feeling even more humiliation. This day was too much for me to handle. I went to bed sad, embarrassed, and devastated. The laughter, the embarrassment, the humiliation had spread throughout the day like a sickness. I gave my day a title, Worst Day of My Life: Lunch in the Bathroom.
The next day I faked being sick so I wouldn't have to be humiliated again. My mom actually bought it! I just lay in my bed thinking about what could I do to be cool, popular, and the star of the school! I came up with being myself because all my other ideas might get me into trouble. I decided to be myself but put on the best outfit I had so that when I go to school the next day I wouldn't look like a "goody goody" or too preppy. I was prepared to be cool and popular.
When I got to school the next day something magical happened! Kids started to come up to me and saying, "Hey you look like that kid from "That's So Raven!" I thought to myself, what made them come up to me randomly and pretty much become my friend? Was it magic? Do kids just know that I had a hard day? Was it pity? Maybe they were just screwing with me?
It turned out it wasn't any of those things. My mom talked to Ms. Drum and told her that I was new to the school and the area and that had had a very rough first day. I probably wouldn't have any of the friends that I have now if it wasn't for my mom. Thank you mom!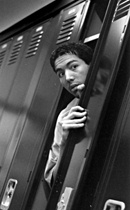 © Paulina A.,Marblehead, MA