Halloween Night
September 30, 2009
Today was the day I've been waiting for, for about a whole month. It was finally here, Halloween took forever to come but it was worth the wait. My mom was taking my little brother and sister to manor to go trick or treating and I was about to go trick or treating with my friends, who were all my age, 14. Earlier that day I sat out my costume stuff, and food I was going bring, and I never told my mom about the shooting that happened earlier that day.

My mom left and I was all alone in the house around five o'clock by myself, scared. I'm the type of person who can't be home alone without getting paranoid, so I decide to go to my homeboy charle's house and scoop him up on the way to cris's. On the way I saw this dude I knew named jaquelin so I yelled, "what up foo!"

And he replied with the urban term "what's crackin." He was going the opposite way so I went and dropped by cris and charles's house and picked them up. We headed back towards cook to see who were all lurking. Cook looked abandoned, the only thing moving was the swings in the breeze. We didn't see anyone we knew, so we called Katrina and Ne Ne on my phone and met up with them. We all goofed around for whiles then started knocking on people's doors for candy, because we all wanted candy more than anything. Later that day after we went trick or treating we played basketball until about 11:30 at night.

Cris kept saying he wanted to go home every time he saw an old school Cadillac, because supposively that's what the shooter drove around in. after the fifth time he mentioned going home everyone started getting paranoid, and we were already worn out so we decided to go home. I was the only one who didn't have someone to walk with so I walked fast, considering no one was outside and no telling who was around. I started hearing people laughing, and when I turned around I saw Cris and Charles were running trying to catch up with me. They said they were going down my street to go home, because they were going to try to scare me on the way. I told them how happy I was to see them, because I was kind of scared to walk by myself, considering what happened earlier that day.

That night was fun and crazy. We all knew about the shooting earlier that day but ignored it so we could have a good time. That day was cool because I realized I should stay loosen up and not act paranoid about stuff that might not happen to me, such as the shooting earlier.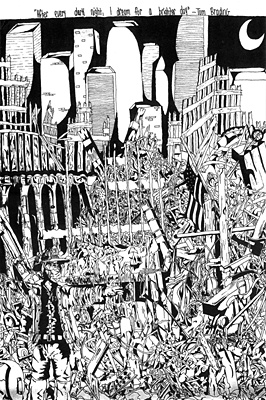 © Tom B., No. Vernon, IN