Sneaking Out of the House
September 27, 2009
I was scared, looking around. It was cold, dark, and scary. I was with two of my friends who wanted me to sneak out of the house to mess around. I was a little iffy about the whole idea but I just followed them outside. I stayed at my friend's house until everyone was asleep. He said lets go. I and the two other kids stood up. I was very tired, it was one A.M. The minute I stood up I felt like dropping on the floor and sleeping instantly. Instead of complaining I just followed them. My friend checked the hallway and turned off the lights. We tip toed past the hallway and towards the door. As he opened the door there was a small creaking noise. As I walked through the door it felt like a dark shadow was lingering above me.

I was out, it was dark outside. We were right next to a street light but it was a dim and gloomy yellow light. As we walked down the sidewalk they were talking. I didn't listen, I was looking around to see if there was anyone watching us. I had a strong feeling someone was following us but I didn't say anything. We walked to the park and went to the bathroom near the drinking fountain. There was a car in the parking lot, as they were getting a drink I was watching the car. It was a black, small car. It sent a shiver down my spine. It felt like everything was gone except for that one car. I stepped towards it, it was little ways away. Every step I took towards the car the scarier it got. I was a couple feet away from it then the palest face popped up through the window. I ran as fast as I could. It was the scariest moment of my life.

My two friends followed me wondering what happened and I told them that there was a person in that car. We walked back to the parking lot and it was gone. I was so relieved but I felt as though it was following me. There were no cars around us thankfully.

As I walked back with them back to his house there was the car in front of his house. I stopped in my path, my friends asked what I was doing. Then I said that's the car I saw at the park. As they looked where I was pointed the car started and the lights of the car where very bright. It started coming forward, it was getting faster and faster. I ran the fastest I've ever ran in my life. The car was going very fast now I ran to the side street and jumped into a bush. The car passé the street I ran to. I hid in that bush for twenty minutes. My friends came up to me and said that was scary. They were laughing but I wasn't. As we went back inside of his house and onto his couch we were all resting. I was so tired I wasn't scared anymore though. I was just about to go to bed but then my phone vibrated. I took it out of my pocket and turned on the light. I looked at who it said it was from and it said the number was from 666. I opened the message and it said I'm watching you. I was scared to look out the window, I told my friend to and he looked out. Opened the door and looked, he noticed a note on the ground, it said have a nice night. It was the scariest night of my life and I'm never going to sneak out ever again.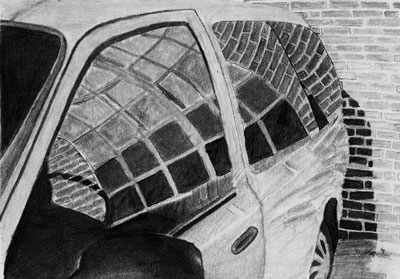 © Andres T., Monte Vista, CO