Our Friend The Moon
July 12, 2018
During the summer I could never run on the ground without any shoes on. It would get so hot I would run onto the grass to feel comfort and coolness. Walking barefoot when it rained or when it was cold, I thought was more bearable. When my feet got numb from snow, I thought it was cool how I couldn't feel anything. The big hot sun made the sky pretty but me dizzy from the heat, feeling uncomfortable. I didn't understand it, how could something that makes beauty feel agonizing when near? How come nature didn't mind it? Why did it make others feel pain, while ultimately giving life and happiness at the same time? At that time, it was the most confused and frustrated I have ever been. So because I hated the sun, I feel in love with the moon.
The silence at night that could never be tamed around me was infinite. The night sky is never totally black, it lets you in on secrets if you're willing. Sometimes stars don't even matter, because eventually they'll turn into suns. The moon however, is the perfect place to put the night sky in. It's cold but, I've never heard of someone that tried to land on the sun. No one really pays attention to the moon, since most of us choose unconsciousness, which makes it the ultimate underdog.
To me, the sun is hot heated beast that picks its favorites. Favors nature and animals, hates and kills humans. She radiates cancer. The moon is a shy old guy that just wants to be seen, but can only come out when no one is looking. When someone is, they only wants to see his talents, what he has to offer in the world. Once he's done, he becomes unrecognized again, he's a zoo animal. Only the few sees his features, he's pretty much done being walked all over. Why is the moon the biggest but everyone just wants to see the stars?
Darkness is easily compared to evil, but when its dark outside some good things can happen. It's usually the most calm time of the day, and isn't it the most natural without the sun. We can see space, our surroundings while we're on earth. The sun just masks it. I wish I could do so many things during the night time, and sleep during the day time, without the heat and society. So, why don't you visit me, when I can walk barefoot on the cool grass and cool road? It's so quiet and peaceful, everyone is asleep, but we can be awake, and visit our friend the moon. Let's forget about the sun, let's forget about the stars, let time be forgotten, and let the silence be infinite.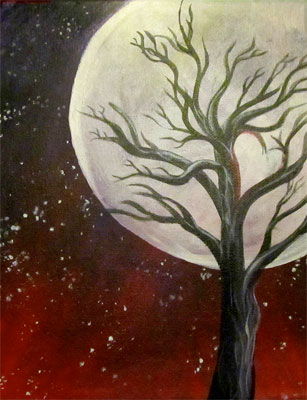 © Rebecca F., Madison, SD