My Hero
May 4, 2018
It was an ordinary October morning. Just like any other kid, I woke up at exactly 7:00 am and headed downstairs to the smell of fresh bacon and pancakes. Except this particular morning had a different feel to it. The entire week was sunny and today was dreadful and rainy. I glanced out my window to find a trail of water leading into the sewer. As I devoured my delicious food, I noticed that the rainey day was the only dreadful feel in my house hold. I turned behind me to find my father on the phone with my mother. He had the look of defeat and sorrow in his eyes. My heart sank to my stomach and suddenly the bacon wasn't sitting right. My sister and mom have been out of the house since yesterday due to my sisters surgery on her stomach. I instantly thought of the worse case scenarios. Did my sisters surgery go okay? Did something go terribly wrong?
I ran over to my dad in hopes of eavesdropping on their conversation. I stood directly under him and stared at him until he looked into my eyes. My dad quickly shoved me off and told me to wait in the kitchen. "No" I demanded as I crossed my arms and put my bottom lip over the top. I refused to go anywhere until I knew what exactly was going on. I hated how my parents treated me like I was too young to understand anything "adultlike". They acted as if I couldn't sense something was wrong. I was smart enough to understand that something was not okay. My dad is never one to show emotion like this. "Here" he said, handing me the phone. "Mom? Is everything okay?" I ask. She quickly assures me that my sister is fine. I demand to know what all this fuss was about. She tries explaining what happened but she is so choked up from crying, her words seem like one big mumble.

After a minute or two of clearing her throat, she tells me the news that changed my life forever. My uncle, who was a fireman, had just passed in a fire trying to save two little children. He was the first one to jump from a two story building when it was on fire. I feel my face get hot and I am in total disbelief. This must be wrong. There is no way he is dead. I hand the phone back to my father, who has eyes welling up, and continue into the kitchen. It took about five minutes for my second grade brain to fully process what my mom had just told me.

I think back to just about a month ago. It was the end of summer and my uncle and family had gone away to Long Beach Island. I remember my younger sister, Emma, was upset because she didn't win the pink fluffy bear in the arcade game. My uncle went back to the arcade and must have spent at least twenty dollars just to win that cheap boardwalk bear for her. I can still remember the smile on her my sisters face to this day, it fills my heart. She has been sleeping with the pink fluffy bear, which is now named Charlie, after her favorite book character. One morning, one of Charlie's legs got stuck in the washing machine and all of his fluf felt out. My five year old sister was inconsolable for days. "He's not the same, I don't want him anymore." Emma cried. My mother had told Emma that she had to accept the fact that he may not look the same, but he is still her favorite stuffed animals. Just because something terrible happens, doesn't mean we can just give up, we have to accept the situation and get stronger from it.

I imagine my two younger cousins, Isabella and Charlotte. I can't begin to think what is going through there minds right now. I glance over to my dad who is on the phone with my mom again, and I stare at him. How does a little girl like me lose someone so important in their life? I don't understand why this is happening. After what feels like years, my dad finally hung up with my mom. I leap into his arms and give him the biggest and tightest hug I could. "I love you dad' I said, 'what's going to happen to Bella and Charlotte?" I question. My dad informs me that they will be alright. Although I know that is just what grownups are supposed to say. I know deep down that everything will not be alright. I know that the next time we are in Long Beach Island there will be a feeling of emptiness. I know that everytime I walk past my uncle's room, I will think he is in there. I know that everytime I have a conversation with my cousins, I will always see their father. I know that everytime I see my sisters stuffed animal, I will think of my uncle.

Two weeks later, I am finally reunited with my cousins. I pull up in front of their yard to find a lawn filled with all sorts of Halloween decorations. My uncle's firefighter friends had come the day before to surprise my cousins with all sorts of decorations just in time for Halloween. I see my cousin open the door and my aunt is standing beside her. My aunt looks sad, but who can blame her. I run up to my cousins and give them the biggest and tightest hug possible. I don't know what to say. There is nothing to say. We spent the night playing barbies, just as second graders would. My cousins are the strongest people I know, and this reminded me to be the same. I had to do it for my uncle. I knew that this death would leave a mark on my family for years and years.

My sister had to accept that her favorite stuffed animal was torn apart in the washing machine. Just as I had to learn that I had to accept the loss of my uncle. I will never forget the impact he left on my life and everyone else who was lucky enough to meet him. He truly was the most selfless and generous person I have ever met. This terrible event was a tragic loss but made me learn the power of acceptance and strength.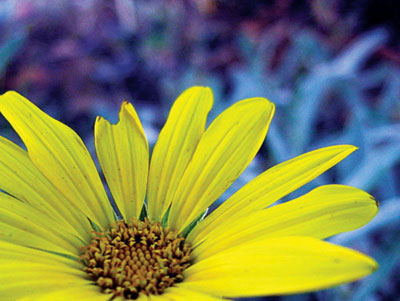 © Roopa S., San Jose, CA