A Return of Reminiscence
April 13, 2018
In 2013 I moved from my home in Branchburg NJ to Easton PA. Originally it was a very hard and upsetting transition, but I had learned to overcome it. Little did I know that this whole experience would change my life and even my identity. Although the move itself was a very new and beneficial experience, the new school I attended, St. Jane Frances de Chantal, had the most impact on me. It was a devout Catholic school focused on providing both an academic and religious education. This allowed for a very comfortable environment for myself because the students there were so kind and friendly and shared the same beliefs that I did; we had a lot in common. The teachers were very helpful and especially very good at conveying the material and information to us in a very unique and effective way. This knowledge was very beneficial for me and my future, as I can still retain most of the sills and information that I had digested. I had learned so many more aspects about my religion, Catholicism, and even it's history through religion classes.

I had returned to the school once after I had moved when my brother had errands to run in that city. Both the city and the school had more or less stayed the same surprisingly since I had last been there. It was after school hours a few days after the school year had ended and there was an open house that was convenient for me to attend. I walked through the classrooms I once sat in and reminisced about all the good times and conversations I had with all the great friends I had met there. There was a sort of academic aura and a distinct aroma in each room that was unforgettable and yet it somehow still lingered in the rooms. Although one small but notable change was that almost every desk had been switched for long tables instead of there being individual ones. All the original educational posters and papers remained and created a feeling of nostalgia, especially when I saw some of my own papers and projects still hung up as models. I could remember all the difficult tests and exams I took, but more importantly how they helped me learn effectively. However, this recollection was also a sad one as well as an enjoyable one. Since I had moved, my life was moving on, trying to adapt to a new environment. I couldn't reap the benefits I had at the school anymore and I had essentially lost the friends I once had. But this didn't change the effect that this place had on me.

Another very important aspect that changed my life through St. jane's School were the friends that I met there. In fifth grade, the year I moved there, I met many new kids that would soon turn out to be some of my greatest friends. In fact my greatest friend had moved halfway through that school year and I had befriended him soon after. He and I bonded through the sports the school offered and we both attended many social events together. All of my new friends were all Catholic and very kind and charitable and it was very important to me how we all shared the very same beliefs through Catholicism. Common interests were shared among us as well and since we got to know each other form a relatively young age we had learned and experienced a lot together along with acquiring more commonalities. The area we lived in was somewhat small which made it easily accessible for us to visit each others' houses. We were able to bond through that and in the plethora of extracurricular activities that the school offered and that we participated in. All of this was made possible through and because of the school.

Looking back on the experience I had at St. Jane's and how it impacted me helps me realize how fortunate I was to have so many friends and opportunities because of it. Especially when I visited there I had such a good feeling knowing and acknowledging how special this school was to me and my life. But it was also a sad experience, visiting there, because I didn't have the opportunities anymore because I moved and I couldn't see my friends as well. My life was trying to move on when I had left, it was evolving and trying to cope with a new environment. Things were beginning to change which was inevitable, and I had to adapt to my new residence and school to move on. I could still reminisce about everything that I got out of that school and keep inside me what I learned from there, but I could not turn back there, only move forward because things change. Those pastimes were good ones but they were gone and I had to accept that and try to make the most out of my new home, as I was beginning to successfully adapt to it.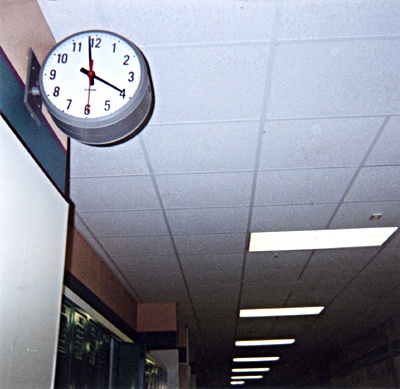 © Blake B., Highland Village, TX