Lovely Minds
February 20, 2018
People around the world are different shapes, weight, color and have difficulty keeping their pride of themself. Women are the main targets of insecurities and untrustworthy thinking of others. Throughout life we get pushed around and put in a corner of change and confusion. Life is full of independence and the focus on fixing your own life and not for others but for your own good of letting individuals in.

In 7th grade, puberty was the physical focus on teenage living. While growing up in a newly area of teenage, judgemental boys and girls going through mood changes and difficult times, it was not easy for me to open up and be myself. I went through certain points in time that made it harder to be my own person without letting someone else "control" me and who I am truly wanting to be.

Once 8th grade came around, I started to appreciate the shape of my body and who I am as a lady. During my last year in middle school, I noticed that I will be splitting up from my friends and that I'd be finding new groups in high school. With high school being the most social area, I knew I needed to be myself and open up. Bisexual, bigger girls don't usually have the closest or nicest friends that will be honest about how they look when they approach them.

My first day of high school I only saw a few of my friends from middle school, but with the lack of the communication over the summer I wasn't sure if we were still friends. As my old friends approached me with wide arms and beautiful smiles, they gave me compliments about how I looked and helped me find my classes. When I headed to my last two classes, the one person I hadn't seen that whole day that I was worried about was in my class. The smile on his face was priceless and the braud voice that came out of him saying my name like we hadn't seen each other In years made me smile hard. That year came to an end and I had multiple new friends and many memories to go home with.

To this day, as a junior at the same school, I am a proud of myself because while I was down at my worst I picked myself up and now I can see what there is worth in life. I believe that being secure can open you to individuals to love you and support your needs. If it has to be friendships or just yourself, look forward to the things that will help you get back up on your feet. Because depending on someone to come in and make life amazing, will take longer than fixing things on your own and loving yourself.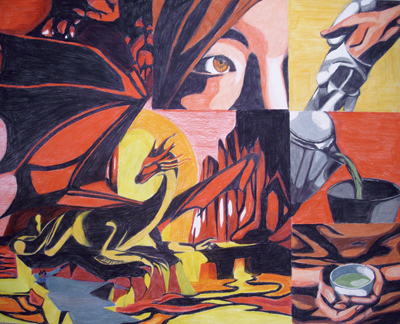 © Weike W., Rochester Hills, MI