A New Friend
November 2, 2017
One beautiful fall day, the wind was playing with the leaves drawing them in then quickly twisting them in a circle to just barely get them off the ground. My long street was so familiar, but somewhat very different at the same time. I looked down to see yellow and red leaves stuck under my feet squirming to get free and fly away in the breeze. Everything was completely and uncomfortably silent as I walked at a quick pace to leave that dreadful corner. All of sudden it hit me, this was deja vu.

It was September 22, 2014. I could not hear anything but the pitter patter of my feet on the road. Then faint voices and laughing was heard in the distance as I increased my speed to a sprint. I couldn't take the suspense anymore and whipped the door open. A carefree laugh was heard, followed by another. I dropped my bag down with a thud and kicked off my shoes. The slippery cold tiles remained under my feet as I made way to the living room. Oh my god. Today's the day we meet the foster dog. I shifted my eyes over to this small, scared animal sitting in the corner. I watched as he looked around nervously, taking in the new environment which soon would be his.

"Gabby, this is Brodie" my mom called out from across the room.
"Wait is this the dog? Is this OUR dog?!" I replied, frozen in place with excitement.
"Not for sure yet, but possibly in the future!"

I turned toward my sister and we exchanged a daring smirk. I knew right then we were both on the same page of convincing our parents to welcome this dog into our family. I forced my feet to stay quiet as I slowly approached him. This innocent small dog sat in front of me all impatient, and took a risk to come towards me. Only to, right after, retreat back to his corner. I decided to let him be for the moment, letting him have his space. I could tell that my mother and sister were already obsessed with him, trying to lure him out of the safety of his foster mother, and attempting to get him to do tricks Brodie didn't want to do. I just sat there waiting for an opening to get my turn to pet him and smothering him with all of my excitement. Eventually I got to pet Brodie's soft ears and it was almost like he smiled back at me. A couple short minutes later, it was time for my new friend to leave.
I watched as the foster mother pulled out a leash from her bag, and carefully placed the collar around his furry neck. We said our goodbyes as it still felt like I was just saying Hello. She walked out with Brodie tightly in her grasp. Brodie pulled Annie, the foster mother, out the front door and down the old brick path to her car. In one swift jump he was back in the car he came in. Then in a blink of an eye they vanished. All I could think about is this new love I found for this dog. A few weeks later my parents sat me and my sister down on the couch to have a talk with us.

"Now dogs are a big responsibility, girls."
"WE KNOW!" Both Emma and I shouted.

"Well we are only telling you this because we are getting Brodie," our mom told us with a rush of excitement.
Both Emma and I were thrilled to have a new family member. All the time my family and I have taken to care for him has taught us the responsibility of taking care of dogs. To this day I am thankful to have a friend waiting for me when I walk through the front door when coming home from school. In the end, I've learned that dogs are a big responsibility but are worth it.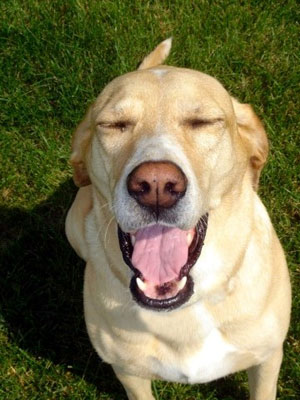 © Ashley E., Downers Grove, IL