The Beauty of Influence
April 4, 2017
What is my creative process? For one, I should say that I do notparticularly believe in an organized process of creating something. Rather, I think life itself is the creative process that produces art. I don't have one means of creation, but I allow my life experiences and emotions to shape my poems. Condensing these experiences in a work of art, however, is the tricky part. From listening to music to inhaling the intoxicating effects of marijuana, I try to let an experience guide the direction of my poems. That said, I have an abundance of influences that bring these life happenings to fruition.

In general, music can influence my writing. When I hear a song, and I really listen, sometimes it ignites an idea for a poem. I immediately open the notes application on my phone, and I write words to the rhythm of the beat. This provides a sense of singularity and flow in my work, and it makes my poems much easier to follow. I draw my influence from a wide assortment of artists, as well. Sometimes, I throw a Lou Reed vinyl on my Crosley turntable, and I allow the soundwaves to fill the room. Lou Reed is a poet if I've ever seen one, and his murky, simplistic tone instills these colorful images in my mind. All the sudden, certain words just come to me, or an idea for a poem seems to spark. It's hard to explain, but the words just seem to write themselves after I hear a good song.

My education has inspired some of my work, as well. In college, I took a history of rock n' roll class, and surprisingly enough it had a profound impact on my writing. We did a unit over the genre of punk rock, and the literary tone of punk artists seemed to appeal to me. I also enjoyed the themes of nihilism and rebellion in the lyrics, because as a youth searching for realness in this world, I can relate on a variety of levels. Another genre that we looked at in history of rock n' roll class was rap music. As a writer, the poetic tone in some of the rap songs really stood out to me.

Another class that has provided influence for my poems would probably be my Writing, Reporting, and Editing class. In this journalism class, we focus on writing tight and concise sentences, which makes it easier to retain journalistic integrity. Before this class, my writing lacked overall structure, and there existed a heavy use of adjectives. I think the journalism class has expanded my ability to allow verbs to convey meaning. Mark Twain once said, "When you catch an adjective, kill it. No, I don't mean utterly, but kill most of them--then the rest will be valuable. They weaken when they are close together. They give strength when they are far apart." I take this quote to heart, and I've tried to mimic it in my work. My writing may have been more flowery and poetic prior to this class, but some structure was definitely needed in my form of creative expression.
When I think of major influences on my writing, a few works of literature immediately come to mind. If you ask my mother, she will tell you that I've always been an avid reader. Ever since I was little, nothing seemed to please me like a good book. Thus, I should probably mention some of the works that show up in my writing. When I was a senior in high school, I read "Catcher in the Rye," by J.D. Salinger. The author employed such a remarkable sense of characterization in such a hip and accessible fashion. If I could emulate what Salinger did with Holden Caulfield, I would work at my typewriter until my fingers fell off. All jokes aside, the way Salinger critiques the phoniness of the adult world, enticed me at that moment in time and space. I would venture to say this novel has left an indelible mark on my soul, and surely I draw influence from it.

As for revision, this class has certainly benefited me. My instructor, Emily Corwin, has been pretty thorough and specific in her feedback of my poems. Honestly, after I made revisions, both the first and second times, I was shocked to see how it made my poems come alive in a way I didn't expect. When I used abstract language or some of my descriptions were confusing, Emily simply marked it. Then, I put pen to paper and used imagery to replace the vagueness. At that point, I realized the power of sensory images and the emotions that they can convey.

Overall, I don't necessarily believe in a set process of creating something. That does not mean, however, that I don't have specific influences that drive my work. I've used music and literature as different modes of influence. Each influence is equally impactful in my journey to become a writer. Lastly, replacing vague concepts with specific details and sensory images has an astonishing effect on the outcome of my poems. All in all, I believe the process to creative writing is a complicated one, but my secret is looking inwardly and drawing from my personal experiences. After that, the words write themselves.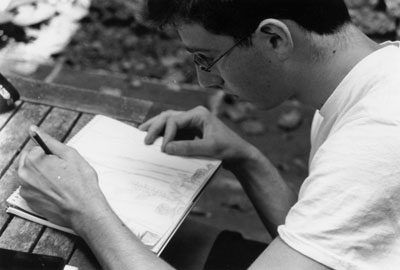 © Kira L., Bethesda, MD