Pure Bliss
November 16, 2016
A vibrant, salmon sun begins to rise over the clouds, spilling its rays across the Earth, illuminating the room as it peeks through the window onto the floor. A cool breeze ruffles the leaves of nearby trees, startling the birds, causing a subtle ripple of Robin's chirps. As the alarm begins to blare, filling the room with sounds of music, I slowly rub my eyes and awake. I put on the outfit carefully set out the night before, brush my teeth, wash my face, and grab a quick breakfast. I carefully slam the door, sure not to wake anyone up, and head out the door to start another lively day. This doesn't sound very familiar, at least it didn't the morning of June 17th; the last day of school. Four different alarms blaring from my phone, shaking the room, and three fuzzy blankets draped around my neck are required to finally drag me out of bed. I just barely make it out the door on time to start my day, well knowing I did not get enough sleep the night before. Despite the dreaded process of leaving my warm, welcoming mess of a bed to venture out to the "real world", a smile slowly creeps across my lips, as the day I have been longing for all year has arrived. I am one to love school, yet the past school year of 8th grade been exhausting, stressful, and seemingly interminable. Finally, the cycle of wake up, work, and sleep would come to a close. Waking up the morning of June 17th was a moment of happiness, knowing the year had finally reached its conclusion.

The school year coming to a close meant two things: more sleep, and camp. In a short four days, I will head 8 hours North to Camp Kennedy, with 31 of my soon-to-be best friends. Camp has been a tremendous part of my life, and I would not be who I am today without it. Although all years of camp have been memorable and amazing, this year was special. We were to take two backcountry trips, also known as trips that are taken to a location that you are unable to reach by driving; you must hike or canoe. One canoe trip to Wawa, Ontario, and the other, a hiking trip to the Porcupine Mountains.

We had been at camp for five days. The Kennedy staff, lifestyle, and overall experience had been amazing so far. But, reaching the five-day mark meant that it was time to leave for our first backcountry trip. After a gruesome hour of finalizing our packing, it was time to leave our newfound home. Although we had to leave, we were overwhelmed with excitement for our first trip. To some, an eight-hour drive may seem like a burden. For the 24 campers of Camp Kennedy, it was heaven. The drive consisted of eight hours of story sharing, joke telling, song singing and conversation having fun.

After the eight hours, we finally arrived at the first location of our trip; Agree Outpost Camp. Many of our staff had attended camp Agree, and were overjoyed to return. Their joy quickly spreading to the rest of the campers, myself included. Agree is located in Wawa, Ontario, and is home to gorgeous sights; from vibrant green forests to glimmering navy lakes. The oak trees towered over the skyline, allowing small beams of shimmering light to shine through upon the muddy ground and grassy patches of land. As the bus pulled into the winding driveway, the volume of our cheers quickly grew higher and louder. Once we arrived at Agree, we were in awe. Not only because of the initial shock of arrival but because of the level of mosquitos. A thin layer of mosquitos and bugs lined every surface, as far as the eye could see. The air was muggy, heavy with sweat and dirt, yet a cool breeze danced through the windows of the bus onto our backs. A smell of mold and half eaten kosher bagels coating the seats of the worn bus dampened our senses. This only encouraged the goosebumps of excitement that has risen upon my skin. The wretched smell warmed my heart. It was the smell of a bus that needed to be thoroughly cleaned, but also the smell of camp. I closed my eyes and smiled, listening to my peer's excited screams and chatter, sniffing the thick air, taking in every moment. I scurried off the bus, joining my cousin and friend Jenna to help carry supplies to our base of camp set up. We were given the space of a cabin to sleep in for the night, a luxury we had been looking forward to .

"Woah.", we stated in unison. We looked at each other and grinned from ear to ear. After hearing of camp Agree years ago, we had been awaiting arrival ever since.

As we carried countless bags of supplies up the driveway, our legs grew weaker.

The warm sun grew dimmer and the mosquitos seemingly could not suck enough blood from our poor arms, legs, eyes and toes. As I carried me the final supply bag into our temporary cabin, I collapsed to the floor in relief. I was finally able to take a breath of fresh air, that was muggier with humid and sweat, than it was fresh.
"Hey, the worst part is over!", a camper yelled from the distance in laughter.

"What do you mean 'the worst part', we're at Agree! THE Agree! This is just the beginning of the best part!", I exclaimed back. Through our aching bodies and hearts full of joy, laughter in agreement erupted from everyone in the room.

The 24 campers all slouched against the walls of the cabin, resting from the long day behind them. Dinner was in two hours, and we decided to kill time with a quick nap. As I began to drift off to sleep on top of my triple plastic bagged canoe trip stuff sack of clothes and gear, the door slammed open and someone ran in.

"LET'S GO SWIMMING!", one of the Camp Agree staff exclaimed. The room was silent, no one was eager to rise from their comfy spot against the wall.

"Is she kidding?", murmured multiple children in the distance.

"I hope not! I'm ready to swim!", exclaimed Noa, a very close friend of mine.

She grabbed my hand, we decided that it would be an experience that we would not want to miss. I grabbed two of my friends to come with us, and quickly others followed. We changed into bathing suits and walked down the abnormally large hill that camp Agree sat on top of. The lake scenery was a sight for sore eyes, with an ice cold glistening lake and a bright green tree line set with a layer of thick fog.

"This is incredible.", stated Noa, eyes wide, and heart heavy with joy.

"I have honestly never seen anything like it," I replied, "Where did I throw my camera?"

"Wait," murmured Noa, "I think this is one of those times it's better to capture the beauty with your mind, rather than a camera lens."

I smiled back, nodding in agreement. Whether she meant it, or was just quite eager to climb the hill and swim, not wanting to wait for me to grab my camera, I decided she was right. This was a moment that, in fact, truly did want to capture with my mind rather than a camera lens.

In the distance, an eager camper dove in, screaming from the top of their lungs; the water was ice cold. Shaking, I took a leap of faith and dove in. The cold depth of the water instantly chilled my body. It was the most refreshing feeling, and I was overwhelmed with happiness. I was as happy as could be, with no care in the world. It felt as if the weight of all of the stress, tears, and hard work from last year had been lifted. I called it the moment of, "pure bliss". One by one, everyone hopped into the icy lake.

Frequently, life may begin to seem as if it has developed into an ongoing cycle; work, sleep, weekend, work, sleep, weekend, etc. Yet, I believe that the moments in between the cycles of life are ones that mean the most. Whether it be a heartfelt gust of genuine laughter, receiving an A and accomplishing your goal, hearing your favorite song on the radio, or merely plunging into an ice cold lake and feeling rejuvenated and full of love.
Essentially, the moments of indescribable joy. As anyone wouldn't, I never wanted to leave the moment of, "pure bliss". But, I also believe that the beauty of a moment is that it is merely a moment. As it passes, the moment may end, but the memory must live on forever. Once we had to leave the lake, I was disappointed not to stay. Yet, I was extremely thankful for the astonishing and refreshing experience. The brisk water and cool air stung my skin, but the free feeling of nothing but love and appreciation stung my heart. Diving into the icy lake, despite our exhausted backs as a result of carrying packs and our tired toes, blistered from hiking boots tied slightly too tight, was one of the moments of pure bliss in my life, that I know I will never forget.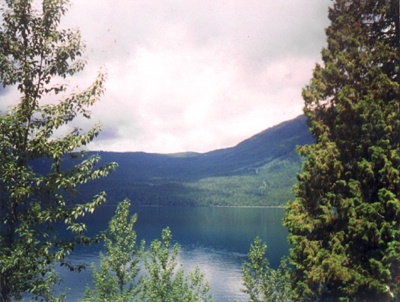 © Chelsie T., Phoenix, AZ