Riding a Bike
July 15, 2016
Learning how to ride a bike

I was 6 years old and very short. I was visiting my birth dad and his parents in Minnesota. "Do you know how to ride a bike yet?" my grandma asked me.
"Yeah, but only with training wheels" I responded feeling a little bit embarrassed. 
"Do you want to try riding a bike now?"
"Yes!" I responded wondering if she even had a bike my size.
She asked my dad if he could teach me how to ride a bike. I was super excited as I would finally learn how to ride a bike like all my friends. I walked outside looking for a small bike. The only one I found was a really old green john deere bike. I took it out to the driveway from the garage. My dad came out and helped me on the seat. I put my left foot onto the left pedal. I felt this sudden pain go straight to my foot. I had realized that I had no shoes on. I quickly got off the bike and ran inside the house. I went back outside with some tennis shoes on. My dad helped me on the bike again and told me the basics of riding a bike. Then he started pushing me around the driveway telling me which way to steer the bike. Then he let go, I felt like I was slowly gliding on ice. The happiness stopped as I felt the bike starting to wobble. "Start pedaling" my dad shouted frantically. "Okay" I respond.
I started moving my legs in a circular pattern while my feet were on the pedals. I started riding the bike at a faster pace. I couldn't believe it, I was actually riding a bike. I felt like I could fly. I felt like I could learn how to do anything. I couldn't believe that learning to ride a bike was so easy. I should have known I could do this. Learning that I should stop doubting myself and expect more from myself.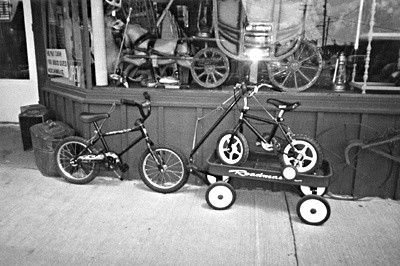 © Eva A., Eagle River, WI