I Was Only 15, After All
February 28, 2013
Although my time on this planet has been short I feel as if I have experienced much more than an 18 year old ever should. I always read stories of divorce, or death, and contemplate frequently why such horrible things happen to the best of people. It's always been an inner battle I have fought within myself. There's always someone out there that deserved it so much more, and it seems as if these situations feed off of those who did not.

I can not sit here and tell you I have ever been a divorce. My parents were High School sweethearts, getting together at just 14. Of Course they fight, as well as everyone else does here and there, but nothing serious.
I also can not say that I have experienced death, outside of losing my grandmother at age 16 I have never lost a parent, a friend, or someone to a tragedy.
Every death is tragic, it just seems to be a lot less tragic when the deceased is elderly or ill. We can always approach it by the simple belief that "they are in a better place".

At age 15 I got my first boyfriend, along with most girls. Its the age that we seem to know everything yet nothing at all, all at the same time. I was head over heels. He was a guitar player, played extraordinary baseball (which I also do, not to brag) and although I was 15 and he was 18 he seemed to understand every trial of life I was faced with. Every fight brought us closer. We were meant to be.

He was also extremely beautiful to me, not like a regular boyfriend, but instead he was much like a work of art. The intelligence that shined from his was too overwhelming at times, I was baffled by his insight into life's social justice issues and how opinionated he could be. But yet somehow, all of his opinion were also that of mine and we clicked. Don't ask me to this day what I did to capture his attention; I will never know. For months after starting our relationship I would sit up at night asking myself that exact question, an answer never to follow. Somehow I started to accept it and just consider myself lucky. I would have rather had him them all of the money in the world, all of the possessions, or all of the knowledge. How was I to know this was unhealthy, I was only 15 after all.

My parents did everything humanly possible to explain to me that I was too invested in this relationship, that it was taking a turn for the worst. It was no use. I knew everything. I was only 15 after all.

One night, after a long day of school and showing him off we retreated to my house to go in for the night. A whole night filled with Cheetos, cuddling, and a movie festival. Things changed when my parents announced their departure to their friends house for a couple of hours. Cuddling on my couch, alone, for the first time was perfect to me. Nothing could get me off my high. I was on cloud 9. I was 15 after all.

Looking back on what happened next I cant help but cringe. Now sitting here, older, with a 15 year old brother I could and will never be able to picture him being able to follow in my foot steps. We went up to my bedroom and being 15 and naive you can infer what followed. Don't get me wrong, he did not pressure me, I was more than willing due to my complete unhealthy obsession with our relationship. Who cares if I lost my virginity, my innocence at 15? We were getting married one day and having children. I was aloud to make stupid, impulsive decisions. I was only 15 after all.

Months passed after that fateful day and good turned to horrible. Horrible turned into unsolvable. Together turned into apart. Everything fell apart. We fell apart. We went on to not talk, not be friends, not be anything. We were nothing and eventually he faded in the background. Nothing left but a figment of my imagination. We lost communication and both moved on with our lives. It came to a point where he was never even on my mind. It was like he didn't exist. I was 15 after all.

In October I returned to school for my grade 11 year, my first taste at being a senior. He had graduate the year prior so he was never around. He didn't exist. One Monday morning I awoke for school and followed the steps. Went to class, had lunch, used every excuse to leave class and/or get out early and then waited for my best friends bus to walk home. While walking home he brought up a joke from the weekend, or what I thought to take as a joke. A video. A video I was in but had no business being in. It was funny, he was pulling my leg, right?

Turns out after a heated discussion with him it was not a joke. There was a video. Of me, at 15, losing my virginity to the boy I hadn't even thought of in years. Who would do that? Without permission (not that it would ever be given) I was only 15 after all.

The police were informed and shortly after he was brought up on charges. All of what happened after is completely irrelevant. I can not even remember the next couple of months, they were a blur. All I remember is walking around my small town and facing the looks of people and asking myself what exact part THEY were looking at. I was violated. I was depressed. I was dead.

I retreated into hiding for months to follow, not to come out of my house, I wouldn't even walk to get the paper. Too scared. Too embarrassed. Too alone. To dead. I did eventually return to school, and then to my family, then my friends, then my life.

Sitting here at almost 19 years old, starting my University career in the fall with a loving family, loving friends, and a truly loving partner I can honestly say that that year of my life did be the biggest favour I could ever imagine. He helped me. He motivated me. He brought me to LIFE.

I know where I am going and what I want to do. I know what I do and do not stand for, and most importantly I know what unhealthy looks like. What pressure looks like. What heartbreak looks like. And what being alone looks like. I know how to help those people in similar situations. I know how I felt and I know how they do too. I have had many people approach me since that day with questions, or asking for advice and I can answer them all with grace and dignity. He didn't kill me. He saved me.

I am off in the fall to achieve my degree in psychology and then eventually plan on working as a youth councillor. A University degree is not required, but it's what I would like hung on my wall. That way, when the boy who I thought was oodles of more intelligent then me delivers my paper one day, I can invite him in and brag. But also, thank him.

It's funny what life throws at us. What we take from these things however are completely up to us. Life works in mysterious ways, but it always has an ulterior motive. At Least that's what I tell those who ask me how I got threw it. Turns out although we think we have all the answers, we never will. We learn as they come. You're not expected to know everything about life. I was only 15, after all.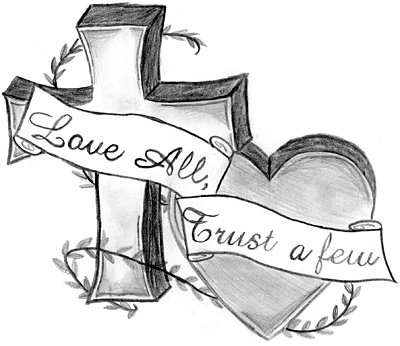 © Gina W., Glen Gardner, NJ