How to be a Writer
January 11, 2013
Start learning to revise in first grade. Literally cut and paste, not Word Document cut and paste, but cut out parts of your writing with scissors and glue them elsewhere. When your teacher invites you up to the Teachers College at Columbia with another student, to share your writing in a huge lecture hall for hundreds of teachers, gratefully accept. The accolades you receive will empower you, even at six years old.

Find a pink notebook, with Hello Kitty and cartoon flowers on it, in your closet. Try to draw and discover you aren't good. It's a necessary step. Instead, write stories about big families because you always wanted one; write in horses, because you like horses. Devise intricate plots, and well thought out back-stories and descriptions for every character. Never make characters like people you know; you think they're supposed to be completely fictional.

When you go on vacations with your family, bring along a notebook or binder to write in. Over time you'll loose them all anyway and find new ones. But, writers are meant to do that. Each new notebook is the start of a whole new adventure and you need to keep moving forward.

Start a diary at least ten different times, each time in a new journal or book because you decide your old one is now contaminated with an old story and your new diary needs a new book. You also don't just want to rip out the old pages because you dislike the look of ripped out pages.

Copy poems into a book in second grade because, for some reason, your teacher thinks that's a productive assignment. On your own time, write poems about snowflakes or random household items, like a stapler. Your mother will later bring them up in arguments against your hatred for writing poetry.

In third grade, really learn about writing different parts of a story by writing the beginning, middle, and end on separate pages. Write a story about loosing your Sea Pass on a cruise ship and being mad about needing to get a new one because you had a little OCD and the new one wasn't hole punched symmetrically.

Decide that you want to be an actress/dancer because you love theatre. Try out for the school play in third grade. You won't get in because you were so nervous you sounded like a chicken. That rejection will be a critical point in your future so don't despair too much.

Audition again in fourth grade. Get in. Write a story about getting in, using your rejection from the year before to demonstrate why you were so nervous about getting in the second year. Use decent metaphors, similes, and descriptions for a fourth grader. Get a lot of positive comments at the publishing party, including one from your mom: "Great writing, great reading, and most importantly, great typing!"

In fourth grade, also get into music. Compose a piece that gets played by the New York Philharmonic. It'll be a great bragging point when you're older. Learn about how music works and develop a love for it, even if you know you've never gotten anywhere after years of piano practice. Realize that it's better left in the hobby section of your life.

In fifth grade, per your teacher's request, decorate your writing notebook with things you like because she thinks it'll inspire you. Decorate yours with pictures of animals, M&M's, Lunchables, Scooby Doo, your brother, your guinea pigs, your curtains, and some iPod minis. Inside, write random stories about hitting your friend with a pillow so hard that he falls out of the lean-to, meeting Hillary Clinton, seeing your brother, running through the rain at camp, white-water rafting in Colorado, and your brother falling while you were on his back. As the year progresses, start writing fiction and fantasy instead. Decide you like writing a lot but you still want to go into theatre.

In sixth grade, get a chronic illness. It's unavoidable but the pain and depression you go through are like gasoline to a writer. But as an eleven year old, you don't realize that. Instead, switch from reading and writing to television because with your decreased mental faculties it's all you can comprehend.

Despite your illness, start a streak of not getting below an A on any creative writing assignment. In fact, finish seventh grade on the high honor roll.

The summer after seventh grade, discover Grey's Anatomy. It will be your gateway to the world of "fandoms." Though you get teased for obsessing over it, ignore everyone else. This is an important time in your life.

Start writing Fanfiction, a type of writing devoted to making up new or different chapters in the lives of characters in television shows, movies, plays, and video games. At twelve years old, the comments raving about your writing and disbelief that you're only twelve, will fuel your love for writing.

After eighth grade, join the Origins Project, a musical theatre summer program. Don't drop out after orientation because you think everyone knows each other and you'll never make friends. Realize how wrong you were two days into the program. Once you hear everyone sing, realize how bad you are. Your disillusionment over not actually being good at musical theatre, in conjunction with the great comments you get on Fanfiction, will lead you to your life changing discovery: you want to be a writer.

In late ninth grade, bedridden again because of your chronic illness, start diversifying your love for television. To do that, go on Tumblr, find other like-minded Grey's Anatomy fans and "follow" them. From them, discover other shows you should be watching. First Glee because despite your realization that you can't sing, you still love musicals and music. Find Friends and How I Met Your Mother and rediscover your love for Gilmore Girls and Harry Potter.

From Harry Potter people on Tumblr discover your next gateway: Doctor Who. Doctor Who will whisk you into the worlds of British television, sci-fi, and fantasy. By twelfth grade, you will watch almost forty shows—of various countries of origin, length, and genre—religiously.

As you get more and more into television, you realize how interconnected it is with writing. In television, there are general plot structures and everything is written to please the audience or anger them intentionally while staying conservative enough to please the advertisers (on American television). Turn deconstructing and analyzing that formula into hobby.

Make the biggest realization of your life: you could write for television and from then on, make it your mission to do so. Apply to colleges with Creative Writing programs that also either have a communications major or Film and Media Studies major.

In twelfth grade, after being told to write about your experience with writing, pull down the boxes in your closet to find anything interesting to talk about. Realize how much writing pervaded your childhood and wonder how you ever could have wanted to do anything else.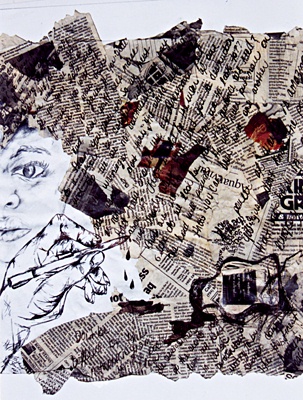 © Lashieta F., Kannapolis, NC