Learning to Love
MAG
January 16, 2013
Like a lot of Southern girls, I grew up as Daddy's Girl, sitting on his shoulders with my little hands plastered to his bald head. I grew up to the smell of his French toast on Saturday mornings. I grew up feeling his strong hands pick me up after I had fallen off my bike. We were inseparable. In fact, for years I was convinced that Bring Your Daughter to Work Day was every other week at his law office. Even as a freshman he would tuck me in every night (embarrassing, I know).

Then one day in 2009, my mom and I got a call as we were shopping. My dad had been rushed to the hospital with a kidney stone. My mom has had at least three, so we didn't think it was a big deal. When we got to the hospital, we joked around as they ran tests on him. Then the doctors found that my dad did not have a kidney stone; his aorta had ruptured. A doctor told us this was a "life or death situation."

The best heart surgeon in Fort Worth left the dinner table where he and his wife were celebrating their fifteenth wedding anniversary to operate on my dad. My brother rushed home from college, and our entire church and school family gathered with us in the waiting room. We waited in silence until 3 a.m. when the surgery was complete.

The doctors told us there was a 10 percent chance that he would make it through surgery, and my dad beat those odds. The doctors decided to keep him in a drug-induced coma while he recovered. The next 72 hours were the most crucial, they explained. During this time, countless friends and family traveled from all over the country to talk, crack jokes, sing, read, and hold hands with my dad as he slept in the ICU. But after 48 hours, my daddy passed away.

When I was a little girl and imagined what it would be like when I was grown, I never imagined life without my dad. I always pictured him hammering together my bunk bed at college, blubbering as he walked me down the aisle on my wedding day, and taking my kids to the rodeo. I never imagined reading his name on a gravestone or missing out on ­father-daughter dances.

But I also never imagined the strength that losing my dad would give me. I never imagined how easy it becomes to live life fully once you realize how delicate it truly is. You never know how much someone has impacted you until they are gone. But losing my dad taught me that I thought too small.

My dad taught me all kinds of lessons. He taught me that '90s country music is much better than the country of the 2000s. He taught me to see the difference between a chestnut-colored horse and a bay horse. He taught me how to play possum convincingly, and how to eat around a cinnamon roll because the middle should always be saved for last. Because of my dad, I now know how to lasso a patio chair and make a last-minute Halloween costume from glow sticks.

But, most importantly, by watching my dad, I learned to love others. I learned the importance of investing in relationships. I learned that car rides are meant for catching up with old friends on the phone. I learned that bike rides are the greatest group therapy sessions. I learned to remember people's names and to talk to strangers on airplanes. I learned that everyone has a story. By being loved, I learned to love. And that is the greatest lesson of all.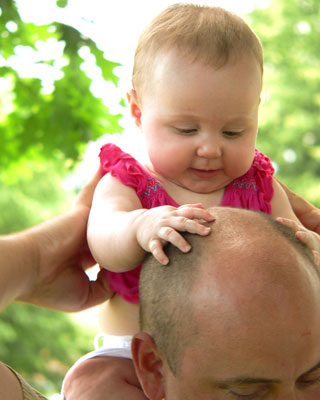 © Lukas D., Conway, AR