Saturday
October 3, 2012
It was cold and gloomy overcast out in California; something I assumed was a rare occurrence. I walked contentedly behind my quarreling parents and excited brothers, staring up at the gray sky, anticipating the rain that would surely come. It was early, very early. Only a few tired tourists were out waiting to enter the park, though I caught a glimpse of the mob that was trailing us, slowly, lazily. Almost like a pack of thick zombies, shambling along at a careful pace. A warm feeling crawled up my spine as we hurried up to the entrance and were escorted in.

Though this wasn't my first trip to Disneyland, it's the earliest I can remember. I was a few months shy of my sixth birthday. I know that every kid's first trip to Disneyland is a memorable event, but it meant so much more to me. Not just a fond memory that I can pull up whenever I need a comforting thought, but a spark in the earliest time I can remember in my life that inspired and pushed my love for all things creative and magical.

My tiny body was so full of excitement that I nearly threw up upon entering the magical domain; no one noticed my choking it back down. Soft ragtime was drifting through the air along with the scent of over buttered popcorn and sugary, creamy pastries as we sauntered through the walkway, taking in the almost empty Main Street. I stopped noticing my parents' ever-growing arguments, the shockingly foul things coming out of my nine-year old brother's mouth and the gagging noises that emitted from my four-year old brother as a direct result of those explicit words.

I was losing myself to the soft feeling, the warmth and homey-ness that was so new to me. I almost felt warm arms around me as I slipped away from my family, though I'm convinced it was just my schizophrenia, cruelly mixing with my tender heart's newfound emotions of peace. I was experiencing love, I thought, for the first time. Absolute peace and love.

I was ripped back into reality by my mother screaming "Sissy! Sissy! Come back over here! Get your picture taken with Mickey!" Even at five, I thought a six-foot mouse was rather strange. Despite this, I walked over and hugged the mouse that I adored in cartoons, but was rather bewildered by in person. I skipped away again and desperately tried to be sucked into the warm feeling, but it wouldn't come as easily as before. I was painfully aware of my surroundings now. The nausea I was feeling was from excitement, but from my older brother's joyful whispers of unmentionable acts and the subsequent puking of my poor baby brother.
I was trapped, the feeling slowly settled in. It stirred up bizarre anxiety in me, my head was spinning. I tried to focus on something, anything, to take me out of the early stages of my anxiety attack. At the very last second, just as sweat started to bead on my forehead and dampen my bitty palms, the soft beginning notes of Once Upon a Dream caught my ear and saved me. I was only gone for a brief moment, as reality was determined to pull me back, and was quite successful by setting a light pole right in my path. I awoke on the pavement, (even it was comforting in Disneyland), and rejoined with my rather embarrassed parents.

I was now the victim of my brother's joking harassment, "You ditz, you moron! You flew right into that thing!" I shoved him aside as we came up to the end of Main Street. The beautiful Sleeping Beauty castle, pink, blue, and spotted with gold, greeted me; it looked straight from a Barbie play set. What really caught my attention was the statue of Walt Disney himself and his pal Mickey, gazing into the future. My five-year old heart, filled with inspiration and still recovering from the overwhelming emotions from before, was overflowing, threatening to spill out.

No one noticed me swallowing back my tears. I stood alone with Walt and Mickey, equally enthused and curious about what the future held for me.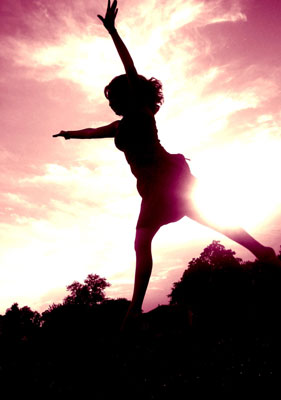 © Martha V., Morton Grove, IL