Mi Cara
September 4, 2012
I'm average with a hint of pretty and I know it. There's no getting around it. I'm staring at myself in the mirror. My espresso brown hair is pulled back from my face into a messy bun. It didn't go easily. My hair, much like myself, refuses to conform and is stubborn and impossible. The bangs never curl properly and it goes against me in spite of me rather than for a purpose.

My eyes peer up at forehead. It's average, similar to the rest of my face. Not too big and not too small. I can't really complain there. I move my eyebrows up and down and ridges form. I continue to move them as I make the mountains swell dip. I almost die laughing at my own silliness. My brows furrow and I create an upside down wrinkled U pattern on my face. I proceed to stare at my eyebrows. They're slightly arched so I don't look angry. A few stragglers grow out of line from the rest. On my father's side we all have the same eyebrows. I smiled as I remembered the faces of my family and all of their eyebrows.

My eyes then travel over my face landing on themselves. They're brown with gold specks. Not just any brown however, an almond brown. The muscles seem to resemble bark flexing with my movements. I wonder how that is possible. The eyes are the windows to the soul and with all I have seen how are my eyes not leaking what my true intentions really are? My eyelashes curl away from my eyes almost as if they wish to rid themselves of what I've seen. They're masked with a coat of black. My nose is inspected next. I've always been subconscious of my nose. It's petite much like myself with a slight downward slope. I crinkle it and squinches up making me giggle once more. My lips are thin. They're shy and disappear when I smile revealing my radiantly white teeth, which shine in comparison to my less glorious lips. My tongue, perhaps the most hidden, part also makes itself loud and clear with its sharp and cutting words. It tears down esteems and yet it hides away while hypocritically blaming others for doing
the same thing.

Pimples glitter the areas of my face. They seem to be taunting me as if they know they're part of my embarrassment. My ears poke out to say hello and eavesdrop upon the girl speaking loudly in the bathroom. My freckle proudly stands out to further embarrass me and announce that I am different and yet here I am still so average. I have a small chin that seems to also peer out from behind my teeth.
All in all most of my features seem to be small and average. I conclude this as I walk away from the mirror feeling somewhat refreshed that I am normal and yet somehow perturbed that my normal face may contribute to an equally normal personality.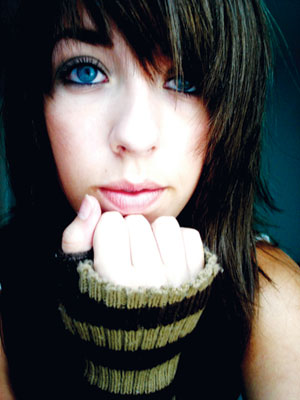 © Brit H., Peabody, MA