The Sailor
June 2, 2012
Family is a substantial part of my life, and if asked to pick a favorite relative, I couldn't do it. Despite this, my paupou has, and always will have, a special place in my heart.

He was born July 6, 1926, in the home that I currently live in. According to stories that I've heard, he was quite the trouble maker as a child. At the age of sixteen, he ran away from home and joined the Navy during World War II. Whenever a grandchild asked a question about his days as a sailor, he would gladly whip out his old Navy scrapbook. Looking through his photo album, it's impossible to ignore his good looks. "Charlie is that really you?! Helen, you are one lucky lady. " is commonly stated by any women who sees his old pictures. Indeed, he might have been the most handsome man I've ever seen, but I am probably being a little biased.

My paupou had a reputation of being a hothead and even spent a night in jail when another man asked his wife to dance. When I was with him though, I saw none of this hostility. He was always kind and loving with me. Around the age of four, I would spend every day with him while my parents went to work. The second he saw me, a bright smile would spread across his face. He always smiled when I was with him and he always made sure I had a smile on my face. I was spoiled by him in every way imaginable. He would play any game I asked, bring me across to the street to feed the ducks, and buy me my favorite marshmallow donuts. Whenever I was hurt, whether it was a scrapped knee or a pinkie jammed in the door, he came running with a first aid kit and always kissed me after he bandaged me up. My greatest memories were spent with him, but unfortunately, they are now only memories.

In 2006, he was diagnosed with Alzheimer's disease. At the time it meant nothing to me. He was still my cheerful paupou. Then, slowly, I started seeing a change. One day, he would forget how to tie his shoes; another he wouldn't answer you when you asked a question. It really hit me hard when he would just sit in the back room, all by himself, counting the cars going down Lakeview Avenue. He would not come up to eat with us, watch T.V., or even talk to us. Numerous times I found myself sobbing because he was no longer the same person. The day that he forgot me and that I was his grandchild was the most heartbreaking moment for me.

He is now in a nursing home and I visit him once a week. Alzheimer's has completely taken over his life. He no longer remembers how to walk or feed himself and can barely speak in full sentences. He does not remember any of his seventeen grandchildren. He only remembers serving in the war, his seven children, a couple of his siblings, and his wife of fifty nine years, who unfortunately passed away last December.
I often replay my memories of him in my mind, trying my best to remember every detail about every moment spent with him. His sparkling blue eyes, the way he smelled, his coarse hands from always working on the house or pool, his deep laugh, and his rough, yet soothing voice. I know I am the sole keeper of these memories now. Every Sunday my father says, "Paupou, look who came to see you. It's your little buddy." He just stares into space with those piercing blue eyes of his and nods. Even though I've been through this many times, my heart sinks every time I see him and he doesn't remember me, his favorite and most beloved grandchild.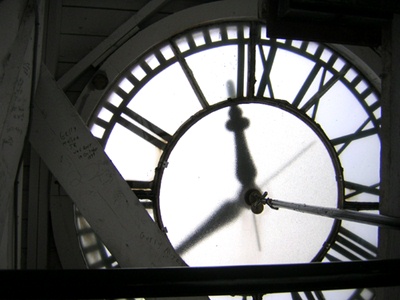 © Tatyana Z., Norwood, MA