Black & White & Jewish All Over
May 27, 2012
I'm sitting with my friends while we work on a science project. Winter holidays are near.
"So, what are you doing for the holidays?" I ask.
"Oh, we're just going to get gifts from each other." My friend, T says.

"We just lit the menorah last night." I say. My family and I, being Jewish, light the menorah every year and say some Hebrew prayers. We don't fully celebrate Hanukkah; the gifts my sister and I get are for Christmas. We also celebrate Christmas; we get a Christmas tree, decorate it and exchange gifts. After saying that my family had lit the menorah, I immediately regret saying that and anticipate the response I usually receive when referring to my Judaism:

"You're Jewish? You sure don't look Jewish."

And, apparently, I do not, to many people. "Look Jewish", I mean. Along with being Jewish and part white, I am part African-American. I do not have the "big Jewish nose" so many people talk about when it comes to Jewish people. A boy in my Health class had come up with a song to describe a Jewish classmate, who just happened to be on the Student Government Association. I don't recall him reacting that strongly, most likely because he was friends with the singer. The song also was made worse by the fact that the singer was a good vocalist. The lyrics:

"My name is [classmate's name here],
I am a Jew,
This is my fate, because my nose is so huge!"

I, on the other hand, have a small nose, inherited from my Dad, also Jewish and part African, and a bush of curly, dark hair, which you could call an afro. I am actually happy that my friend had not came right out and said, or, more accurately, accused, me of not being Jewish, as if she is some type of expert on the way people looked depending on their race. That was the second response I usually receive when I say I'm Jewish. "What? You're not Jewish!" came from the more blunt students. A girl in my English class said that to me, while she then proceeded to tell the entire class that she was going to celebrate "shanukkah".

"And how exactly would I look Jewish?" I respond, a tinge of annoyance in my voice.

"I don't know. Jewish people have big noses.'

"Not all of them do."

'Well, most of them do." says my other friend, M. "I saw a guy on the street across from my church with a humongous nose, and of course he was Jewish."

I don't say anything. I didn't want to argue any further. I don't remember the rest of it, but I do remember the first friend then proceeding to call me a "fake Jew" for saying I didn't celebrate Hanukkah only. She then hastily said she was kidding, but the damage was done. At that moment, I realized my heritage had been officially reduced to a few crude images.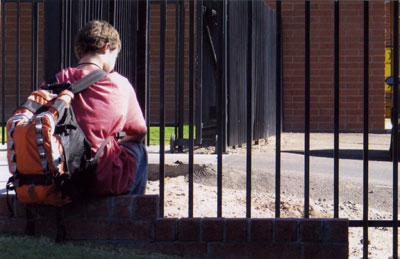 © Molly L., Phoenix, AZ