Teardrops and Orange Juice
November 23, 2010
I sat in the passenger seat of our blue Lincoln MKZ, thinking about how this time it was supposed to be different. This time I was supposed to fit in, to have friends. I laughed at the injustice of it all, but because I had been crying, it came out as a gurgled hiccup. A final tear slid down my cheek, glimmering crystal clear in the reflection from the window as I tried to collect my thoughts. I didn't understand why it had to be me who couldn't handle school, me who couldn't be ordinary. I was on an island all my own and I didn't know how to get off of it, or even if there was a way off of it at all. The car slowly coasted to a stop and I hastily wiped my cheek, ridding myself of the incriminating tear streaks, unable to show my weakness, even to my mother. "Bye mom." I said quietly before stepping out of the safety of the car and into a world in which I was afraid and unsure; high school.

I walked through the hallways towards my first class, not stopping to talk to anyone. I gazed enviously around at all of my smiling, laughing peers and realized that none of these people cared about me, none of them cared that I was there, and none of them would care if I wasn't either. None of these people knew me. Even in a hallway full of people, I felt utterly alone; a ship in an ocean at storm, trying desperately to dock, finding port after port closed.
Suddenly, my hands started feeling clammy; my heart started racing. Not again, I thought desperately. I began to feel claustrophobic; the walls, the students, the lockers, they were all closing in on me. I backed up urgently, only to run into more people. I tried to apologize but I couldn't breathe. My heart was beating too fast, and I was shaking, and the room was starting to spin; I was just so dizzy, and-

BRING! The bell rang and all of the students hurried off to their classes, not a care in the world. I waited for the lightheadedness to pass, earning several odd looks from the other students. When the ground finally righted itself, I looked around, trying to find someone who could help me, but the hallways were empty now and I was alone. Alone; it was a word that had described my mind for several months now. How sadly poetic it was that when I most needed help, I was alone. My breathing started to slow as I sat down in the empty hallway, no longer able to stand. My eyes caught on a motivational poster which read: Alone we can do so little; together we can do so much! –Helen Keller and I broke down into tears; sitting right there in the middle of the hallway.

I struggled to the nurse's office where, because I knew the nurse, she let me lay in the sickroom and cry until I felt a bit better. When I finally emerged from the closet-like enclosure; red faced and wild haired, she called my parents and asked if I could be picked up. "Please," I begged the nurse, "Tell them I came down with something. Please don't tell them about this." Hesitantly, she agreed, realizing that now was not the time for resurfacing our very familiar argument. My mom soon arrived at the school, taking one look at me and believing that I truly had fallen ill.

I soon realized that I needed to tell them of my suffering, and so one day I did. The loneliness just became too much to bear, so I broke down and told my dad everything while sitting on the outside deck of a small restaurant. My mouth tasted of orange juice and tears as I sat outside on the wet seats and finally unveiled my most closely guarded secret, my greatest disgrace. My dad looked at me with infinite sadness in his eyes and said, "We already knew. Every time you looked out the car window, I saw you crying in the window's reflection. When your mom picked you up all those times, she recognized what was really happening. You have depression, Hannah, and we understand." Suddenly my burden was lighter, because finally I had someone to share my troubles with; finally I was not alone.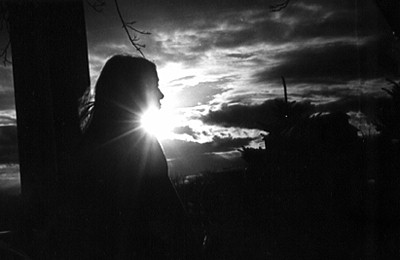 © Elizabeth G., Marblehead, MA