Adrenaline
October 22, 2010
"Ten, nine, eight, seven, six, five, four, three, two, one here I come," Richard said in a deep tone. Richard is one of my best friends; he makes me happy and always brings laughter to my life. His smirk and smile makes me lose my thoughts, but creates a grin across my face. I looked away smiling, and ran to a neat row of dark green bushes on the side of the driveway. I took a deep breath and gradually ran my fingers through my wavy, brunette hair. I waited anxiously, for a vibrant light to appear. Covered in black, and trying to find a way to blend in with my surroundings, I saw a figure running toward me, panicked. Looking closely, I noticed it was my best friend Elizabeth; she crouched down and put her arm on my shoulder. Brown, silky, thin, brunette hair, falls on her shoulders perfectly. Her eyes are like chocolate that make you melt, when you stare deep into them. She is tall and slender, with muscular arms and broad shoulder. She is extremely nice, and has a certain vibe, that can attract anyone to love her. We both grinned and as I glanced to the street I saw a brown truck with a broken headlight and a ghostly figure look at us.

We were both frozen, no movement and thinking of the best way to escape. Elizabeth started to creep out of the bush and ease her way toward the center of the lawn. Looking back, she started to pull my hand with purpose, to join her. I stood up, started to run regretting my decision as I began to breathe louder and louder. Hesitantly, I stopped; I could hear feet pounding against sheik, black pavement. A light started to shine vaguely against the driveway and we started to run. We ran around the corner rapidly. With full confidence, I ran faster and faster hoping I could get enough speed to have enough time to find a hiding spot. A large pine tree swayed in front of us; the winds hard current made my hair blow widely behind me.

We crawled headfirst and burrowed our way into the tree. The only object we could see was a quarter of the moon that shined directly into our blue and brown eyes. I clutched Elizabeth's hand almost cutting of her circulation, nervously. Silently we sat, and listened attentively for any noises or footsteps. We could see our breath in the air, and then evaporate from the cold temperature. I started to bite my lip, and very tense I sat there, waiting. A hard gust of wind stuck my body and made goose bumps appear magically on my arms and legs. Elizabeth, looked at me with an eerie stare, and I looked at her the same way. Then we turned our heads and heard a noise coming from the right side, it was her dad looking for us. We were immobilized; without making any noise. He walked past us, hoping that he did not give us away. My foot started to fall asleep from the constant waiting and my legs in the same position. My heart felt like it was about to sink from the adrenaline rushing through my mind. Are we going to be found or seen? The only thing my eyes could see was the bare space that position directly in front of me. I whispered to her, "Should we stay here or move I think I hear a noise?"

"No, stay here we are hidden enough, if my dad did not see us," she replied honestly.

"Alright," I replied nodding.

We sat for a while longer, trying to stay calm, and then it started to rain. We both moaned and wished it would stop. My hair was starting to get wet and so was my petite body. Pine needles started to drop and create an uncomfortable feeling that I could not bear. I could feel my mascara starting to run down my damp face. I tried to wipe it away but it was too dark to see. Smiling, we both laughed and tried to enjoy the moment. I reached across and gave her a hug and we both wished that it could last forever when, all of a sudden a voice came from behind, "Boo!" We were solidified like statues, speechless, just then we screamed as loud as possible piercing the silence of the night sky. Our hearts felt like it stopped and trying to catch our breath we looked and it was our friend Richard. He shined the flashlight directly in our eyes; it felt like a strike of lighting, beating on our eyes. He laughed and smiled, then helped us out of the tree. We thought it would never end but finally it did. It was a night of pure scare.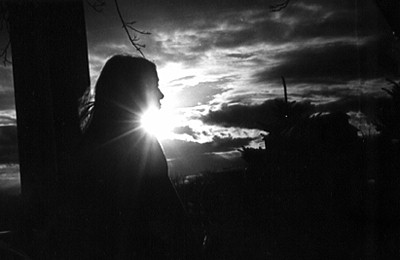 © Elizabeth G., Marblehead, MA