Bittersweet
August 4, 2010
I heard a rustling from the window from my spot on the couch. I was snuggled under a blanket with a book in my hands. Since we don't have a cat door, we leave the window open for Jack, our tuxedo cat, since it is only a few inches above the porch and has no screen.
Normally he was silent when he came in, but I could hear his pawsteps clearly as he passed my reading nook on his way to the food bowl. "Hi, Jack." I mumbled sleepily; it was four in the morning, and I was about ready to fall asleep. I looked up, and to my astonishment, it wasn't jack padding past at all.
It was Simba. He had run away months ago. He had had short disappearances for a while, but he always came back within a day or two. But not that time. He was gone for so long, I suspected he had gotten hit by a car or something else horrific.
His ginger tail twitched erratically and he bristled to an unnatural size as I flung myself off the couch and over to him. "Simba!" I cried, clutching him to me, tears leaking out of my eyes. He gave a soft meow, a meow so familiar it made my heart fall to pieces.
I checked him over quickly for any injuries; but he was just as fat and fluffy as ever, though his pale orange fur was matted with stiff clumps. I plucked some thorns out of his tail as I began to cry even harder.
When one of my best friends had moved, she couldn't bring her cat with her, so I took him in. He meant so much to me, and I was devastated when he ran away. My tears were soaking his belly fur, and I was holding him as close to me as possible, so he struggled out of my arms. But he didn't run off. He just stood there, a paw on my knee, and purred.
I stroked his fur, so soft and light, and followed him as he went to the food bowl. He crunched the brown pellets noisily and I still sat with him, murmuring nonsense; not even real words, and petting him. When he finished eating and picked him up and ignored his reproachful mew; he had never liked being picked up.
I carried him slowly to my mom's bedroom, slowing with each step, dreading what was to come. I shifted my mom awake and she smiled as she saw him. "He came back." she murmured tiredly. "Yeah, he came back. He's twitchy and jumpy, so I'm gonna open the window for him-" I broke off as my throat closed with tears. I held back a sob and choked, "I- just- thought you- might want to see him- once more-" Now I buried my face in his fur and tried desperately to breathe normally. My mom didn't answer, and I looked up to see she had already fallen back asleep.
I turned to leave, Simba struggling in my arms, gasping fitfully. I hated every step that took me to the sitting room, the vile room that held that despicable window. I put my cat on the ground and he circled my legs restlessly. I climbed over the couch and wrenched the window open, wanting to break my arms off for doing it.
Shut it! Shut it! One part of my brain screamed. You only just got him back! But the other part reasoned, let him go. You love him, now let him go. I grimaced at the old cliche, though it twisted my soul to realize how well it fit here.
Before he could leave me, I held him warm body close to me one last time, my whole self fighting to release him. I loved every last hair on his pelt, and I needed him. But he didn't need me, so I unwrapped my arms from him, and he bounded over to the window.
"Good-bye, my Simba." I whispered, my whole body shaking with grief. He paused on the window ledge, his yellow-green eyes boring into mine, and I saw how white his muzzle had turned. This could very well be the last time I ever saw him. I tried to memorize every detail of him in that moment, before he broke his gaze from mine, and leapt gracefully out the window, and into the lightening world.
I watched him go, his ginger fur looking almost red with the light from the early morning sun, before giving myself over to the tears. Happy birthday, I thought to myself bitterly.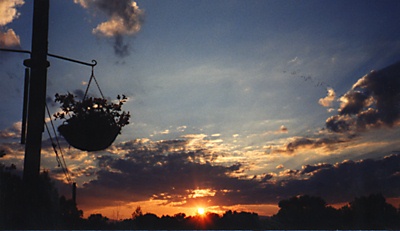 © Ana M., Marblehead, MA