The Sea and I
March 17, 2010
When I was a little girl, I was in love with the sea. I felt as if I belonged there. It was something about the mystical waves hiding a world beneath, the rhythmic sound of the waves breaking on the shore line, and the way it seemed to extend out forever until the ends of the Earth. Had I thought the world was flat, I would have been afraid that my beloved sea would gradually seep over the edge of the Earth and drain out into the universe. When I was a little girl, I used to pretend that I belonged with the sea, that for some strange reason I had been born onto land but that my real purpose was to find a way back to my mother, the sea. I used to make believe that Mother had given me up for adoption to a land couple to be taken care of until I could come back to her beckoning arms coated in salt.

Growing up in Costa Rica, I would spend extended amounts of time at the ocean front, just watching the waves come in, looking to see what treasures were unearthed in the sand, and embracing the feeling that this must have been what peace felt like. I would float on the surface, held up in her arms and being rocked gently to sleep. I could feel the warm sun on my face. Perhaps I was their child and this was why I felt so at home. I would then usually plunge myself deep into the water so I could feel the sand tickle my toes. It was easy to think down there, although I couldn't see or breathe; it all just made sense. In my spirit it all felt right. Others warned me about the undertow and the current and the wrath of the sea but I knew her better. From a young age I could navigate the ocean well enough to not need to be accompanied by an adult when swimming. I knew when to bob and sway and when to let the current take me into its grasp. I just knew.

At the end of a long day at the beach, my land parents would begin packing up our things in preparation to leave upon which I would have to get into the car and drive back home. While they were doing this, I would often stare out onto the horizon and try to memorize the image of her. I would imagine myself walking out into the sea and just keep walking until I was swallowed whole. As crazy, and possibly suicidal, as that sounds it made sense to me. I wanted to be one with the sea. Today, I am still enamored by the sea. Her beauty continues to mesmerize me and I doubt there will ever be a time when that effect will wear off. Several years older however, I don't wish myself a life based on this. I love the sea, but this is reality.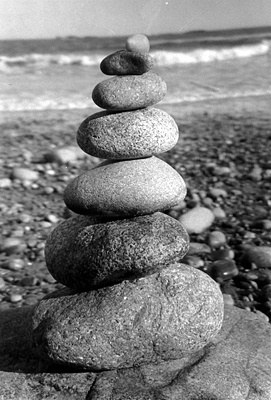 © Vanessa R., Marblehead, MA