Neighbor
December 4, 2009
The commons were crowded and everywhere you looked there were tables scattered every two feet. All these kids were in a hurry running around with no actual destination. The room was giant and felt like it kept growing. The ceiling alone looked like it was one hundred feet tall. I couldn't even hear myself think in the chaos, and my heart began to beat faster. Walking around pretending I know what I was doing, I finally saw this table with a familiar face and I ran over to sit down. As I began to unpack my lunch, the table was filling up: Maggie, Megan, other Megan, Caitlin, and Mary. I've known all of them from previous years; but not Mary.

Mary looked like any other sixth-grader that day, very small. She was short for her age, which we had in common. Walking in the halls, other kids towered over her. She was very tiny, too, probably weighted eighty pounds. Her hair was long and brown and she was covered in head to toe in Abercrombie. When I met Mary, her mouth was full of metal; each bracket had a different color rubber band. I envied everyone who had braces until I got them myself.

Later I found out that Mary is my neighbor, which is the best thing in my life. When we rode the bus home from middle school we'd walk to "half way" and sit there for two hours or till our moms called, questioning our whereabouts. We always joked we'd bring lawn chairs in our book bags so can just sit there all night.

I see Mary everyday and talk to her about ten to fifteen times a day: through text, the phone, or face to face. On blue days we have most classes together, which does come in handy because I always have stories to tell her.

Last Saturday Mary and I went to a party with peoples, and played games. We had so much fun, entire night filled with laughter. Then I started not to feel good and when I went to the bathroom and got sick, Mary was right behind me. Last Sunday we went to Mary's house and just sat there the entire time, no TV, no music. Even though we just sat there I wouldn't change it for anything. It's those nights that you realize if you can just sit there in silence and have a good time, and then she really is your best friend.

I've had so many good times with Mary I can't even remember then all, but we've shared some bad times too. We've cried together when we've have breakups. Since we live so close, she just calls me and does "I'm coming over," then walks in my house and comes in my room. We've laughed together when we just going on drives in the car. We've helped each other when we get sick at parties. Mary has been my longest and closet friend for a long time. I'm not sure what I would do without her. When I get crazy ideas in my head I talk to her about then and either she says "let's do it," or "Cede, are you kidding me? We can't do that!" I always trust her instincts though.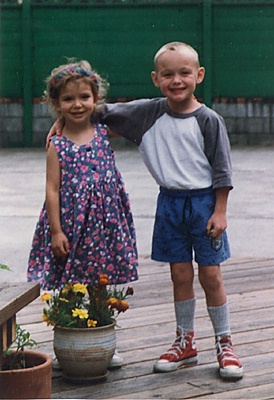 © Jacob H., Phoenix, AZ