Ignorance is Bliss
July 23, 2009
Ah… Christmastime in Chicago. It's the most wonderful time of the year. Freshly fallen snow covers every street and every corner, turning parking lots into playgrounds and homes into havens. Tranquil trees, coated with sparkling white gloss, shiver in the wind. The swirling air, thick and bitter, carries the smells of gingerbread from each home. In every window, a glimpse of a tree can be seen, sparkling with colored lights, and children's faces looking up at the sky, twinkling with dancing stars, dreaming of Santa and his reindeer. Bustling stores are filled with eager but impatient faces scurrying through each isle. I happened to be one of those faces on a chilly winter day the week before Christmas.
As I roamed the local Wal-Mart, I looked for some decorative wrapping paper. I was in a hurry, as were the others, to get home and relax with a cup of steaming hot cocoa. After grabbing a roll of polka-dotted wrapping paper, I hastily checked out and thanked the clerk quickly. As I thought of how I would turn on the fireplace after I got home, a smile came to my face. Yes, I would sit by the fireplace with my dog and wrap the remaining presents while sipping on hot cocoa. I hurried out the door as the bitter wind nipped at my ears. Suddenly my thoughts of relaxation were yanked from my head; I stopped dead in my tracks. A beautiful voice filled my ears and echoed through every bone in my body; my knees buckled. It was a rich, baritone voice that made my heart stop. A gasp escaped my lips and I turned around frantically to find the voice. It was filled with passion as it sang, "Siiilent Night, Hoooly Night"…
The song pierced the icy winter air; it seemed as if the whole world was holding it's breath to hear the next note. Then, when the song continued, the earth sighed with satisfaction and the heavens trembled with excitement. I peered around me to my right and my eyes landed on a little man. Dressed in red from head to toe, he carried a Salvation Army bucket and rang his little bell as he sang. He stood by the door in the trenchant cold. The wind seemed to not affect his rugged, brown skin and his face wore a bright smile that lit up the night; a warm glow emanated from his sincere face. Left and right, the busy shoppers passed by without a glance or a pause. His bell rang silent in their ears. His song, forgotten. Still stunned by the little man, I tried to push him aside in my thoughts. I focused on weaving my way through the crowd to get to my car.
As the snow fell heavier, I continued toward the parking lot. Abruptly, an ear- splitting scream hit my ears. Taken aback, I turned around just in time to see it. There she was, a mother. She looked very young; her face was reddening from anger. Her hands were raised, flailing in the air; shopping bags were littered all around her. Her son, looking around six years old, stared back at his mother with glass eyes, reflecting the hatred he felt. A smack, the mother's hand continued to strike the little boy's face. Shocked, I stood as a tree shoved deep into the earth's soil, unable to budge. Screaming insults back at his mother, the boy's six year old innocence was nowhere to be found. Enraged, the mother's screeching, desperate voice yelled back at her son, vile words dripping with disgust. Both began kicking, pushing, hitting, screaming, and cussing; neither seemed aware of the public place they were fighting in.
Their voices rose higher and higher. The words exchanged grew more and more contemptible. People walked a little slower. Staring and gaping, they began to crowd around inconspicuously. They began snickering and whispering, embarrassed for the mother and her child. "What's going on?" "Should we do something?" "No, we shouldn't interfere. We'd better get on home." The agonizing screams filled the air, joining the little man's deep baritone voice. A duet, with crescendos and decrescendos rang into the night. Soon, the duet became a solo as the man's voice was completely drowned out. His lovely song of a Christmas fantasy could no longer be heard as reality took over.
Still, the man sang; he rang his bell. "Siilent Night… Hooly Night… Allll is calm. Alll is bright…" He stood alone in the dark and to his left, stood the woman and her son. In between were all the people, gawking, and then leaving to their homes for hot cocoa by their fireplaces; their ignorance ensured a blissful holiday sure to create happy memories. Their voices floated away with the icy wind, into the star filled sky, reaching heaven and touching the clouds, but never to be heard again. Christmas, the most wonderful time of the year.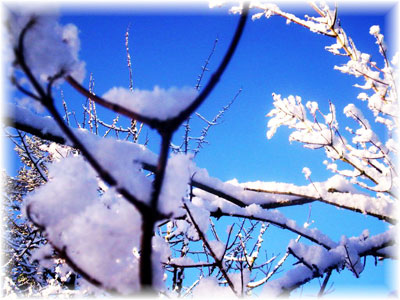 © Anna K., Portland, OR