From Small Town Boy to Politician
August 31, 2013
Born and raised in the small, quiet town of Mobile, Alabama, Sam Thompson had dreams of becoming a politician. Through years of hard work and dedication, Sam achieved his dreams. For fourteen years he served as a New Jersey Assemblyman, and finally became a New Jersey state senator in 2010. Born in July of 1935, this man has lived through some of the most turbulent and great times in our nation's history. As I interviewed him, he opened up about those moments of history in the making.

How did you get into politics?

Politics wasn't a big thing in my hometown of Mobile, Alabama. That wasn't a topic of discussion you'd hear often. However, I became interested in politics when I entered high school. I liked and excelled in my civic and history classes. I was chosen from my school to compete in a civics and history competition against other teenagers from Alabama. After that competition, I realized I have a knack for this, and I knew I wanted to purse a career in politics.

How did you begin your career in politics and choose your political party?

Well truthfully, my whole family in Alabama were Democrats. I had never met a Republican until I was 18 and entered college at the University of Arkansas. In college I saw I leaned more to the right wing, so I joined the Republican Party. I began my career in politics when I moved to North Carolina. I got elected to the county committee and then the congressional committee.

Why do you think some teenagers today are so indifferent towards politics? Some teenagers don't even know their own mayor's name.

Well teenagers never had a lot of attention directed towards politics. They're surrounded by their technological gadgets. They like their I pods and I phones, and that consumes most of their time. Thus, teenagers today don't have the time to think about the political issues. Teenagers don't think about political issues even though it has a lot of impact on them. More than they could ever imagine.

What advice do you have for teenagers who want to pursue a political career?


Start now, start as teenagers and lay the ground work. Contact your local officials and network with whichever party you're in. Become part of organizations such as Young Republicans or Young Democrats . That way you get a head start. If you're involved, government will function the way you want it to. Help guide your destiny rather than be drugged along by it.

A Senator requires you to do so many things, and I'm sure you have to balance all of that out. Similarly, teens today are involved with so much in their schools and extra curricular activities. What advice do you have for teens to balance them out?

Establish priorities. Think to yourself, what's more important. Deal with the most important things first, then go down the list. Once you establish priorities for yourself, you see how quicker and more efficiently things get done in your life.

What is the toughest lesson you had to learn in your profession?

I have learned countless lessons in my profession. But I think the toughest lesson I learned is that you can't always trust people. I wanted to trust everyone, but I soon learned I can't do that. Plus, I think that goes with every profession, there are people you can and can't trust. You need to surround yourself with the people you can trust.

Since you were born in 1935, you have lived through history in the making. For example, you said you witnessed the graduation of the first African American students, dubbed Little Rock Nine, in Central High School in Little Rock, Arkansas. Obviously, there was a whole battle over the integration of white and African American students at Central High. What was that like for you.

Well, I worked as a reporter for the Associated Press after college. I was there during the morning of graduation as a reporter. I remember the atmosphere was really intense. There was a lot of tension in the air. People thought a riot was going to break out as the first African American student got his diploma. But nothing happened, everything went smoothly. I just remember the moment of awe I felt. That sense that our country was progressing, and I was there to witness it first hand.

Senator Sam Thompson really is an inspiration for people everywhere. He worked hard and put in a lot of efforts to be in the place he is now. It goes to show anyone else can achieve their dreams as well, as long as they put their minds to it.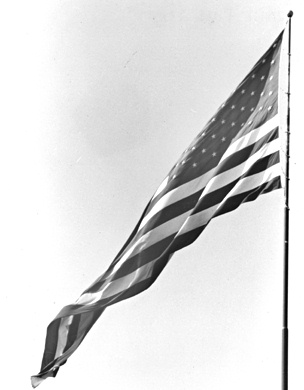 © Lauren B., Highland Village, TX