Most Helpful Teacher
May 9, 2018
Throughout high school I've dealt with major depression and anxiety disorders. My freshman and sophomore years I was on the honor roll with a 3.8 GPA. I took part in DECA, student council, earth club, french club, and eventually national honor society. Junior year took a turn for the worst as my depression conflicted with everything in my life. I was placed in a psychiatric hospital. After the lack of support from my school, I switched to Arrowhead Union High School. This is where I met Mrs. Hassler, the biggest support system I've ever had.
Helping me apply for an IEP, an Individual Education Program, in which I desperately needed, Mrs.Hassler became my case manager. The IEP gave me so many resources to use, including the Learning Center. The LC is the special education room at my school. It's a room shared by the LC teachers, which are all very friendly and helpful. Everyday I am greeted with nothing but smiles. As each LC teacher wants nothing but to help students.
In the back of the LC there is a special room in which I can go during the school day to be alone if I become anxious or stressed. This is where Mrs. Hassler introduced me to the weighted blanket, which has been useful to me in many ways. The blanket calms and brings the user to a peaceful relaxation in times of anxiety or stress. After trying the blanket, I bought one for myself at home.

Each day Mrs. Hassler checks in with me, asking if I need help with anything, or how I'm feeling that particular day. She expresses her kindness by giving me a room to relax when anxiety kicks in, talking through my day, helping me with homework, and occasionally buying me coffee from the school coffee shop. The help that I longed for had finally arrived.

Mrs. Hassler set up a meeting with a resource teacher to talk about things that could potentially help me at school, including fidget toys, light shades, and different chairs to sit on. Just the other day Mrs. Hassler gave me five free stress toys for school.

With each day comes with many emotions rushing through my head. Anxiety tells me lies. It makes me worry about things that shouldn't be scary or upsetting. This makes it hard to come to school on a regular. I have a big attendance problem at school. Mrs. Hassler makes sure that teachers don't downgrade me and helps get extra time for assignments.

Another thing I appreciate about Mrs. Hassler is the fact she wants to help as much as she can, not just with me, but other students as well. I see her on the daily sitting down with individuals working with them. She does a lot for the students at Arrowhead Union High School. I appreciate her like a second mom. This is why I believe Mrs. Hassler is the Educator of the year.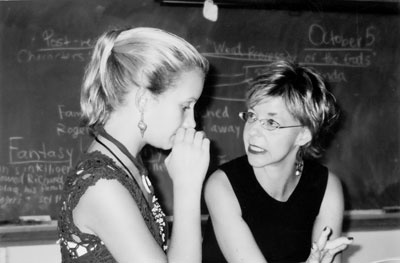 © Olivia L., Pompton Plains, NJ