My Favorite Educator
May 8, 2018
"Put money in the bank," I hear as I run down a path lined with evergreen, pine, and maple trees. His famous quote keeps us going on that endless path to our goal (related to runner or life), is always what I have in mind no matter the life situation. Miles and miles of a canvas path, painted with my feet that ran. Hot on my heels, I hear Coach Hays. He is most favorite track, cross country, and life coach.
I wasn't a runner at the start of freshman year. Running to me felt like being a fish on land. It felt like I wouldn't survive, and it wasn't where I was suppose to be. On the first day of cross country, I gravitated to Coach Hayes and in his running group, I learned how to run and enjoy myself.
As I ran on campus, my feet burned, my face felt the salty drops of sweat beat from my head, and my heart pumped as though I would go into cardiac arrest. These were the days I wanted to give up. But I never did, because my coach was there keeping me positive. "Put money in the bank."
A few weeks went by and I saw improvement. Slowly my times got faster and faster. I remember one specific race, where I ran my personal best. The Muskego Invite. Thirty degrees, snow falling, grass frozen, and legs purple. It was the worst conditions. My head couldn't even imagine running a 5k. I walked up to the starting line, legs shaking, cheeks rosy from the cruel wind, but I still had the will to compete. Right before this race my coach came up to me. "Vienna, these are conditions no runner wants to run in, but all runners must do it. If you go into it with the right mind, you already have won." Bang! The gun goes off. I raced my best, and there will be no occasion to compare the moment my coach and I shared at the start of that race. He was like a motivational speaker, whose words stuck with me forever.

The last race. It is now my senior year, the finish line is in site. My mind was infected by senioritis, but as soon as I step onto that course, my mind is free to run-I let go. My coach approaches me before my final race. "Vienna. You know how I always said put money in the bank?"
"Yes", I responded. 
"It's time to cash it out. Give it all you have and run with not your legs, not your lungs, but your heart." His words are engraved into my mind whenever I workout and whenever I experience a hardship.
Hayes was tough and positive. As a friend he was funny and supportive. I am so honored to have had him as a coach and a friend. His positive pep-talks will always be with me on that long path of life, lined with evergreen, pine, and maple trees. His words of wisdom do not just apply to running but apply to life as well. Put all that hard work in the bank, and then after you get to enjoy the achievements you have accomplished and cash it all out.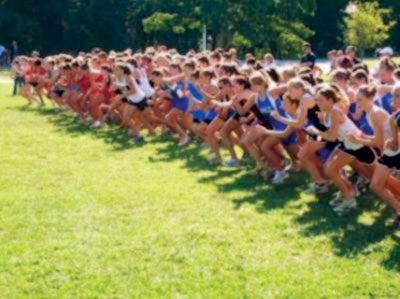 © Ashley R., Charlotte, NC