Coach Reeder
January 7, 2018
After all my learning and beginning years of football, I had one coach I will always remember, and that is Coach Dan Reeder. Coach Reeder has taught me the majority of all my football knowledge. To me, football is a lifestyle and I have a passion for it. Coach Reeder was always so enthusiastic about coaching every night's practice. There are many good coaches out there, but there's some that vividly sticks out a little more than others.
Football is more than just a sport to me, it's something I look forward to getting better at every day. Coach Reeder taught me that to be successful in the game of football or just everyday life, you have to remain one. You have to all work together and help each other out. If everyone does their job correctly you will be undefeated. The joy he had when we did something well always boosted our confidence in doing well again the next time. If you know Coach Reeder you know he has a short fuse, but if you do your job he stays calm.
Coach Reeder is always there motivating you to do better than your last rep. Coach has taught me all the basics from how to properly handle the ball, to the more advanced like how to have your feet and body in certain situations. Just as I thought I couldn't do something or was gonna fail, Coach Reeder was always there to support and push me to do It successfully. Though through all the troublesome nights and practices Coach was always there.
Knowing he played in the NFL inspired me so much to work even harder to also get to the big leagues. I learned that pain, fear, and failure are just mindsets. Work through the struggles and tough times, and you will come out a warrior. By far my 8th grade football year was the best year, and the most enjoyable year for me.
Dan Reeder is my nomination for my educator of the year. Despite the tough times and mishaps, Coach was always on top of everything making sure things went as planned. There are many good Coaches, but to me, there's no one like Dan Reeder.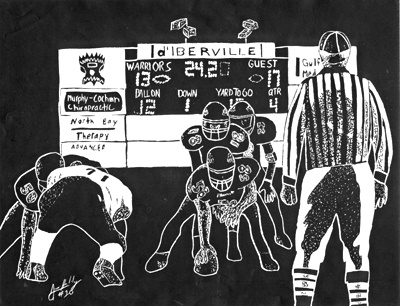 © Jason H., D'Iberville, MS