Teacher of a Lifetime
May 5, 2017
Compassionate, enthusiastic, motivating. A mother, a wife, a horseback rider, a musician, and one wicked, cool teacher. I am describing my junior high school band teacher, at Traughber Junior High School, Mrs. Maxwell.
Imagine having a group of 11 and 12 year olds that have never touched an instrument. It is her job to teach them how to read music, and make music come out of the instrument. Mrs. Maxwell has to deal with this at the beginning of every school year. But she manages to produce four outstanding concerts comprised of ten ensembles and solos for every student annually.

I will never forget Mrs. Maxwell's class. She stood on the podium with her baton in hand directing us. Her hands swung like butterfly wings. During class, rehearsing mid song what sounded like perfect music to your average person did not to Mrs. Maxwell. She would wave her hands in the air. "Stop, Stop, Stop. I need more trombone and bass, trumpets lay off a little bit, and give me more horn! Let's run it again." After her advice and leadership it sounded completely different from what we had played one minute before. It was so rewarding.

But Mrs. Maxwell's excellence goes far beyond the classroom. She is a member of the The National Association of Music Education, Illinois Music Educators Association, American School Band Directors Association, National Council of Supervisors of Music Education, and a number of honor societies. She has also won competitions with bands over the course of her career. Whatever she can do to motivate her students and become a better educator, Mrs. Maxwell does it.

She uses technology in her classroom to improve efficiency and make her students better musicians. She offers her students the opportunity to take private lessons. She brings in professional musicians to talk to her students and play for them. She took my band to the Wisconsin Dells for a clinic and concerts to make us better players. It was these types of things that make her class fun and unforgettable.

Describing Mrs. Maxwell in less than 500 words is difficult because I could write on her behalf for over 5,000 words. I may not be in band anymore, and I don't even live in the state of Illinois anymore, but being able to work with Mrs. Maxwell for three years was an absolute honor and privilege. Without her I would not be the person I am today. She taught me important life lessons including the following: be the absolute best you can, just because something is hard doesn't mean you give up, and most importantly, hard work pays off. Thank you for everything, Mrs. Maxwell, I will never forget you.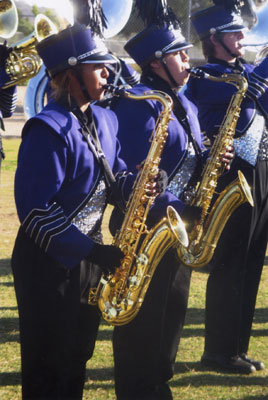 © Laurie R., Phoenix, AZ