Ethan Cherin: Economics • St. Paul Central High School
MAG
May 31, 2014
Of all my classes, I always liked social sciences least – until I took Mr. Cherin's economics class. Economics is fascinating, but Mr. Cherin is even better. He shook my world like a snow globe, unexpectedly but gently shifting my world view until I learned to do so for myself.

Mr. Cherin is an unusually effective educator. When he taught us about the production possibilities curve, the lesson stuck largely because he plotted his curve as the production of pizza versus condoms. Our introduction to the different macroeconomic theories of Keynes and von Hayek came in the form of an Epic Rap Battle on YouTube, and we began our unit on the Federal Reserve with some comic books about it.
The humor was just enough to pique our interest. Then the serious work began, and there was plenty of it. A friend once speculated that Mr. Cherin casts a spell on his students so that, no matter how hard he works us, we still love him and his class. For me, I don't suspect dark magic; educational savvy and a winning personality seem like a potent enough combination to explain this phenomenon.

My experiences with Mr. Cherin outside the classroom gave me even more to appreciate. Last spring, after winning the state round of Academic WorldQuest – a competition focusing on world affairs – three friends and I traveled to Washington, D.C., to compete in Nationals. As our coach, Mr. Cherin accompanied us. In D.C., Mr. Cherin discovered and worked to undo some of my nonsensical personal rigidities. When I nearly panicked at a restaurant because I was too full to obey one of my father's rules (Clean your plate!) Mr. Cherin finished my dinner for me. The next night, once again faced with an oversized portion, I managed to stop eating when I was full, and Mr. Cherin's approval helped me silence the voice inside me screaming that I had committed a hideous sin.

While perfectionism has long defined me, Mr. Cherin is helping me crawl out of the box of dos and don'ts I've constructed. He lets me lean on him as I learn to make my own decisions, yet encourages me to take steps on my own and even occasionally ignore him.

Meanwhile, I am continuing to study economics, and economies of scale are just as revelatory now as the determinants of demand were last year. I intend to study economics in college, and hope I don't forget what Mr. Cherin taught me about it. I hope even more that I don't forget the life lessons I learned from him. I intend to maintain the power to make my own decisions.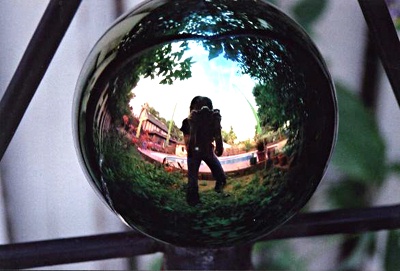 © Alexandra T., Chelsea, MI