Theresa Martin, Special Education Teacher, Helen I Smith School
MAG
April 25, 2012
Do you remember as a child thinking that teachers stayed at school all the time and that school was all they thought about? To a certain degree that's true. Of course teachers don't sleep at school, but they do think about their students and classes all the time. I have witnessed firsthand a teacher, my mom, doing just that. She is a sixth- and seventh-grade special education teacher, and her students are extremely important to her. She is constantly figuring out ways to help them do better in class and succeed in the future.

Lunch – to us it seems simple enough, something we eat every day. However, one year one of my mom's students never had a lunch. Without hesitation my mom came home and asked my dad to make four lunches every night instead of three. Each day she would bring in the extra lunch and put it on this student's desk before school began. My mom knew that if he didn't eat he couldn't perform as well academically and he wouldn't feel good. She didn't want him to sacrifice his success in school because he didn't have lunch.

Another year, my mom had a student who didn't have anyone to help her at home with her homework. She would come in with incomplete assignments. Again, my mom solved this student's problem. She gave her our phone number so she could call for help when she needed it.

One night recently my mom came home with a new pair of men's shoes. They weren't my brother's or my dad's size, so I asked who they were for. "One of my students," she replied. "His shoes are old." She had asked him his size, saying that we might have a pair that my brother never wore that he could have. But instead she went to the store and bought him a pair.

My mom's efforts to do whatever it takes to help her students succeed shows her dedication. These small acts of kindness and devotion to her students are not required in her job description, but she does them anyway. My mom inspires me to go above and beyond what's expected with an open heart to help others. Her love and dedication to her students inspires me to have the same attitude in life. Not many people are lucky enough to witness firsthand a teacher's dedication, and I am extremely happy my mom is one of those special people who are always ready to help others.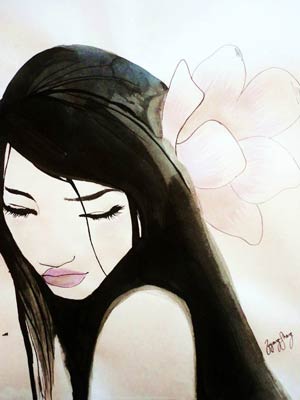 © Liyang Z., Mississauga