Mr. Budzien
March 11, 2010
Mr. Budzien is more than just a teacher; he is an entertainer. Every time I walk into his classroom, it is like walking into a theater. There isn't a day where I don't laugh.
I can remember one day, at the beginning of the year, when he was jumping around on all the desks, pretending to be Spider-Man and singing the Spider-Man theme song. From his weird outbreak in Spider-Man fun, the class learned a new way of organization. We learned that Spider-Man folders are a useful and creative way to keep your stuff organized. And, although the lesson wasn't necessarily important, it was funny. And, it kept the class entertained.
Mr. Budzien doesn't just teach English, he teaches English with a new flare. He knows how to be silly and educational all at once. And, he finds a way of acting everything out. This is great because when he acts things out, they are easier to remember.
One time, he was prancing around like a horse, acting out a poem, when our assistant-principal, Mr. Nejedlo, walked in. Everyone was afraid of what our assistant-principal would say, but Mr. Budzien wound up making fun of himself and our whole class couldn't help but laugh. Even our assistant-principal was laughing. I will never forget that poem because not only did he act it out, it became an inside joke between the class and Mr. Budzien. Whenever something wacky or accidental happens, a student will bring up the day that Mr. Nejedlo walked in at the worst moment possible.
Mr. Budzien deserves this award more than anyone else for his incredible way of being wacky and educational. He teaches things in a way that is not easily forgotten. He is funny, intelligent, and youthful at heart. He is more than just a teacher. He is more than an entertainer. He is a weird, tiny, little, bald man. He is Bud-man. He is a friend.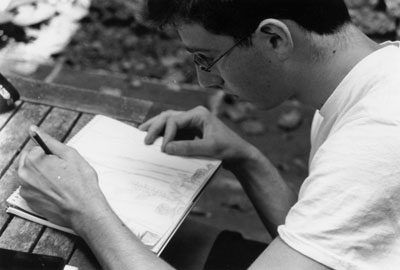 © Kira L., Bethesda, MD