Actor Reed Alexander
May 17, 2012
Reed Alexander is probably known best for his role as Nevel Papperman on Nickelodeon's iCarly. But he has recently become quite well-known in the world of food and nutrition. In December 2009, on Reed's fifteenth birthday, he debuted his website, Kewlbites.com. I was recently given the opportunity to interview Reed about KewlBites, why he chose to create it and new projects that he is currently working on.

Rachel – What is KewlBites and where did the idea originate from?

Reed Alexander – KewlBites.com is my super fun, virtual online hub that focuses on healthy living/eating (yum!)/exercise for families. It's a worldwide forum plus a cutting-edge interactive kitchen where I'm constantly cooking up tips, strategies, recipes, fitness 101, and solutions for making nutrition and feeling great doable for readers.

The genesis behind KewlBites kicks off more than two years ago, when I was overweight, lethargic, and needed to make a change in my eating habits and lifestyle. Recognizing my family history of diabetes and stirring in - no pun intended! - my longstanding status as a major food lover, I decided to grab the reigns and take health into my own hands. Because there was nothing out there in books or online from a kid's perspective or point of view (and not wanting to join a temporary adult-oriented or dietary program), I began improvising and "blogging to myself" with notes, ideas, and recipes that I created in my own kitchen. Eventually, I lost 15 pounds and began feeling so much better, and gained confidence and inspiration when people would ask about the changed I had made.

RH – You've been pretty busy lately visiting lots of talk shows about KewlBites; tell us about those experiences.

RA – I'm so honored to have the incredible opportunity of sharing my recipes and story with brilliant hosts and anchors, and to be able to invite viewers into the 'kewl' conversation! From having so much fun on some of the best mornings laughing and eating with the extraordinary Kathie Lee and Hoda on NBC's TODAY Show to simmering up some Italian favorites with the hilarious Jimmy Kimmel on ABC's Jimmy Kimmel Live!, being able to morph my passion for being in front of the camera with my passion for feeling my best is always super exciting! I've watched The TODAY Show for years, so working with the outstanding Studio 1A team, including food stylists Bianca, Lish, and Ali, and warm team members Mark, April, and more, is a wonderful privilege.

RH – What is your favorite recipe?

RA - Tough question! This answer ebbs and flows on a seasonal basis for me! Since we're moving out of the chilly winter months, I'm currently scaling down the soup output in my kitchen. For springtime, fresh strawberries have arrived and are redefining the meaning of "candy!" I love strawberry smoothies, strawberries sauce on my waffles, and I'm working on a new recipe for a strawberry-centric dessert… So, anything strawberry-based – I want instant membership to!

A consistently top-rated #1 go-to on my roster is my recipe for my Kewl Krunch Bars. These are delicious! My homemade take on a traditional granola or energy bar minus the store bought plastic wrapper, these are the perfect, satisfying snack to give me a boost of fuel on demand or even to chase after me on those out-the-door, grab-and-go mornings. The batter is so simple to prepare, and bursting with flavor and texture I always make a double batch and store them in the freezer, so they're waiting on deck when I need them in those KRUNCH time moments!

RH – Why do you feel healthy eating is important?

RA – Eating healthy is essential. For me, it's all about realizing that "healthy" doesn't mean boring, stale, or dry. It conjures up images of fresh ingredients, vibrant herbs, fragrant soups and sauces, and wholesome, hearty recipes that give me the energy I need for those long days on set, or for a very "healthy" stack of homework, or just for feeling great.

KewlBites is all about a lifestyle. By building fundamental healthy habits easily on in life, they'll stick with us, and we'll always continue to grow and expand our arsenal of tactics, which are sure to have longevity in the future.

RH – How do you think kids can make better food choices? 

RA – As KewlBites suggests, it's helpful to start one bite at a time, and take pride in each change and accomplishment. Heading to the market for fresh, seasonal fruits and veggies is so important! Learning how to decode the nutritional labels really helps to understand how to balance sugar, salt and various other ingredients. Choosing whole foods for the majority of our consumption as opposed to filing up on processed foods makes a significant, positive difference. Also, keep in mind: Portion control is key!

RH – What have you got planned for KewlBites in the upcoming months?

RA – I'm thrilled to serve as a Champion for the Alliance for a Healthier Generation, an organization founded by the William J. Clinton Foundation and the American Heart Association, that shares my objective of empowering kids and their families to make health a priority, and, most importantly, make it fun! In early 2012, I was asked to speak at President Clinton's first-ever summit on health and wellness, where I sat on the panel moderated by Chelsea Clinton. We had a 'kewl' announcement that I've been cooking up behind-the-scenes for the last several months in tandem with the Clinton Foundation and the Alliance: My recipes which I have created on KewlBites are now available in nearly 15,000 schools for more than 30 million students, being cooked and served everyday! These are yummy, good-for-you recipes that I've designed with flavor in mind, and that are both kid-tested and kid-approved! I'm looking forward to continuing the development the program and to adding onto my special menu!

In addition, I'll be touching down in Chicago to participate in the annual Green Festival on May 5, an event that calls together local citizens to enjoy the festivities of cooking, eating, paying attention to the environment, and taking action. I can't wait to host a comprehensive presentation to engage the community and motivate people to think about the critical intersections of wellness and ecology!

With summer on the way and back-to-school pulling up the rear after that, look for brand new recipes on KewlBites.com, and the launch of our Kewl Newsletter to keep you in-the-know and up-to-date about exclusive happenings inside KB Headquarters, and how you can get involved. And, with travel in the forecast, I'll be spending time in New York City where I'll share more tasty bites at our ongoing series of EAT-and-GREETS, and one of my favorite culinary hubs, Williams-Sonoma!

RH – What other new projects are you currently working on?

RA – I've been keeping busy lately working on some exciting new horizons! We've been having a fantastic time at our iCarly studios, shooting the all-new season that's packed with twists and surprises. Tune in on Nickelodeon! Plus, I'm counting the seconds to share a HUGE announcement of a really 'kewl' new project very soon, so please stay tuned!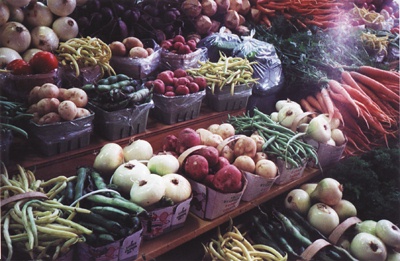 © Amanda F., New City, NY