Brahm's Waltz
January 4, 2018
At 7 pm on a brisk, winter evening I sat on the old, creaky bench beside my piano teacher playing Brahms's waltz for the umpteenth time. My fingers stumbled across the keys and my back cramped. Each of my misread music notes popped out like weeds in a summer's heat. Guilty frustration flooded over me every time an A sharp accidentally became an A flat. The recital was already next week but Mrs. Kramer just calmly sipped her tea and whispered to me, "the piano has no wrong notes."

Since the time I got accepted to a music academy in second grade, music has played an extensive role in my life. The music academy searched for students that had the potential to be the "next Beethoven." That idea of perfectionism was instilled in me and it was hard not to get upset when each mistake became a piercing, red circle on the page. Many lessons ended in silent tears and many performances began in the bathroom with my green face next to the toilet.

That all had changed when I met Mrs. Kramer. Her warm smile could easily mend a wilting heart. Her sweet words were always wise and infinite. Nothing in her life has been given to her in a nicely wrapped gift box and she didn't expect me to have it all done and polished at the age of 16. Every note I played for her felt vivid and every mistake became my own composition. We spent endless evenings laughing together, playing spontaneous duets, and digging out worn out piano books from the attic.

It only took one phone call from the doctor to make those pleasant days fade away. Hospital visits became a daily routine and soon a haunting disease engulfed her whole body in just 4 months. In the dark nightfalls the grand piano spoke to her ears that longed for some comforting tune. The dusty metronome ticked along with her valuable time. Piano lessons grew more and more uncertain and fragile.

At 7 pm on that brisk, winter evening after finishing the piece I looked up at Mrs. Kramer's gaze and knew her weary, brown eyes were secretly telling me their last goodbye. The recital would go on without her and Brahms's waltz would forever echo through my heart for her. In the end, my mistakes made on that stage would be the ones that would get a standing ovation.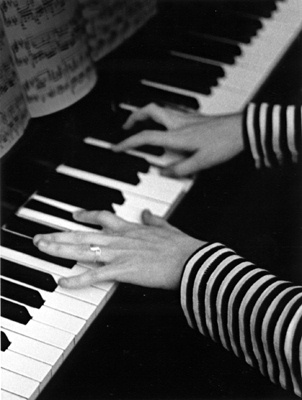 © Paulina A., Marblehead, MA