Psychoanalysis
MAG
Hot-shot psychiatrists say your first memory is the most important. This scares me. If sledding when I was five is something that I remember to this day, then that doesn't say too much about my life. I've been abroad, scored game-winning goals and danced onstage since I was three, but none of that sticks out in my mind like that time I went sledding. I'd like to think my earliest memory would be when I read my first book, or made my first friend. Something significant. Something that doesn't pertain to sledding in Vermont. I'd like to say that. But I can't.

The truth is, I remember that day like it was yesterday. The way the overcast sky hung heavy over the crisp air; the freshly fallen snow, too loose to pack into a snowman. I even remember the red plastic sled and the way I pulled it after me with the yellow rope tied to the front. I waddled up the hill, bundled in innumerable layers, fear mounting as I climbed higher and higher.

"Daddy, promise you'll catch me at the bottom."

"I promise. Now go."

I remember how my dad swore he'd catch me, and how he didn't. I can still recall the gash on my cheek that resulted, and the darkness that followed. I even remember waking up to see my brother stacking his plastic Muppet number blocks on the floor below me. My eyes scanned the living room of that small apartment as my hand reached for my throbbing, bandaged cheek. But it wasn't the cut that hurt, it was my father letting me down.

It could have been an accident. Maybe he tried to get to me, but the sled was going too fast. Or maybe he just didn't see it happening. I don't know; my eyes were fixed on the snowmobile parked at the bottom of the hill. I screamed louder as the shiny black machine grew increasingly close. Then the black filled my entire view, and I screamed on the silent mountain until the impact sent me spiraling into the darkness. He promised me he'd be there, but he wasn't.

I probably would have forgotten this had it not been for the pattern of broken promises that followed. I feel the stinging pain of disappointment every time my father fails to come to my plays and presentations, or forgets to call. "I'm sorry, I tried but I just couldn't," he tells me.

I picked at that scab for awhile, as all little kids do, reopening the half-healed cut dozens of times. But eventually it faded to a scar, and then to nothing. The only thing left now is that memory. I wish I remembered something else, something better, but this is it until I was eight. I'm not too sure what that says about me, or what Freud would think. But I don't really believe in all that psychology stuff anyway. All I know is that one day, when I was little, I went sledding and my father wasn't there to catch me. I fell, but I picked myself up. And it's been that way ever since.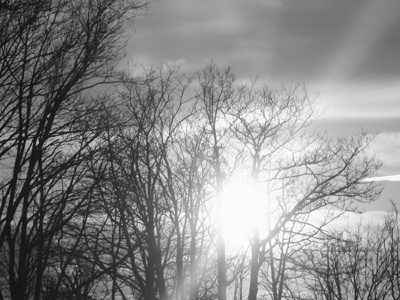 © Emma C., Gardner, MA