Dance
MAG
I have beendancing for eleven years and am constantly learning new steps, new techniques andmeeting new people who share my passion. I've done all types, from tap, jazz,ballet and hip-hop to lyrical, swing and ballroom. I would love to try everystyle, but I'm not sure that is possible! This year, I will be teaching a jazzclass of little girls, performing with my dance team at holiday events, andlearning new dances for an upcoming recital. Needless to say, I will be happysince I will be dancing nonstop!

Dance is so much more than a bunch ofgirls jumping around with pink slippers and tutus. Dance has qualities of sport,art, professional careers and entertainment.

Dance is more like a sportthan you might realize. Like a sport, there are dance teams, with practice,competition and hard work.

Dance is also art, where you move your bodywith the music to let the audience understand your emotions. You use youremotions and the deepest parts of your soul to express yourself, like awatercolor artist would express emotions on a canvas. To a dancer, the stage is acanvas. A dancer expresses emotions by moving his or her body in certain ways,and with facial expressions. Modern dance icon Martha Graham said that"Dance is the hidden language of the soul," and I believethis.

What else is dance? For some, it is a career, with opportunities inchoreography, performing, and also teaching.

Finally, dancing can be asource of enjoyment and entertainment. To see the show of your life, visit theNew York City Ballet or see the Rockettes perform at Radio City Music Hall. Ihave seen many great performances.

But dancing is really even more than anart, a sport, a job or a source of entertainment. For some, it is a way of life,an inspiration and a pastime. In all my years of dancing I have never regrettedit, and only wish I could dance more. I hope perhaps I have interested those whohave never experienced the exhilaration I feel every time I step onto a stage andinto the spotlight.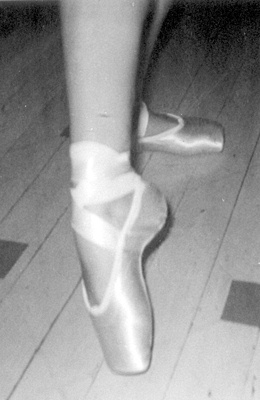 © Amelia B., Philadelphia,PA