It Was a Dark and Stormy School Day
January 4, 2009
I glued my eyes to the television screen, praying to see my school joined with the names of the other fortunate schools in the city. The fierce howling of wind and rain did not even nudge my concentration. The endless list finally reached the W's! West High School scrolled across the screen. Mine had to be next! All of a sudden, the list started over. My heart sank. I thought I missed seeing Westminster at the peak of my excitement. So I sat down and watched the same list cycle through three more times just to be sure, but the result was always the same: every school in the city had a free day except mine.

After getting dropped off the bus, I began my long march towards Mrs. Yearling's 4th grade classroom. I was furious at myself for not studying for the Spelling test on that day. "Why did I have to listen to that weather-man last night?" I thought. "It's not like he was ever right predicting snow days either!" I began creating a plan in which I would study during recess and lunch since we usually take our Spelling tests in the afternoon. With my plan set, I thought that I might be able to actually survive this day. The expressions on my classmates' faces were as gray as the intimidating clouds outside the windows of our room. Not even my teacher seemed like she enjoyed teaching on that day either.

"Hello class," she said. "The school may close early today, so we'll go ahead and the take the Spelling test first."
I was thrown into a mad frenzy the moment I heard those words. My study plan was ruined! With haste, I got out my Spelling book and began to "hyper-study." A surge of adrenaline pulsed through my body. People began clearing their desks as the teacher passed out that infernal test. A few other desperate souls, who also procrastinated the night before, tried to squeeze in some last-minute studying before she got to their desk with a test paper in hand. She was only a couple of rows away from my desk. My stomach churned, for I only memorized three words!

"Please put your book away, young man!" said Mrs. Yearling.
The abrupt command caused me to almost jump out of my seat from shock. I felt helpless when I saw her towering over my desk. The grade on my test was doomed, so I decided to surrender myself to fate. She was handing the test to me when out of the blue, a wailing siren vibrated throughout the whole school. The monotone note of the tornado siren may have been an annoyance to everyone else; but to me, it was a sweet as an angelic chorus.
When I finally got back home, I opened up my Spelling book and began studying Watching the weather-man on the news was the last thing on my mind.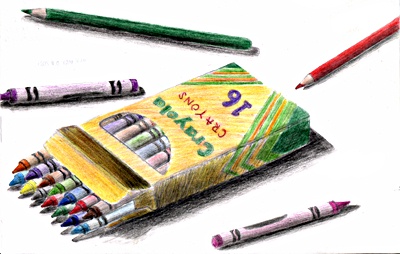 © Dana H., Wichita Falls, TX