A glimpse back at my childhood
March 3, 2010
"Dad, I don't wanna go to your dance party."
"Aiya, why can't you be social?"
"I don't want to socialize with your friends. You do the same thing every single week."
"Do you want to stay home alone then?"

A small hexagonal room. They turn it into a makeshift dance floor. A small closet and small kitchen. Tables. It was cute.

Grandpa Li, the skilled 70-year-old who had more skill and zest on the dance floor than all the rest combined. I had a crush on his grandson while in the 3rd grade.

My dad, in a forest green cardigan, lightwash jeans, and brown loafers. Chatting, dancing. Sometimes playing cards.

Tim, the nine-year-old sitting next to me, is endearing and annoying. Punching away at his gameboy. I ask him if I can play. No, I can't, because it has "low battery".

"I hate coming to these things. I have to come every week now that my brothers aren't home," he screeches at me.

Uncle Jim and Uncle Greg approach my little isolated homework table. They try to coerce me into dancing in their heavily accented English. I smile and good-naturedly reject. I tell them I don't know how.

"If you don't know how, you should dance with Greg," says Greg, amusing me with his unintentional reference to himself in the third person. "I don't know how to dance either!"

They are all in such good spirits. It's difficult to stay moody, but I will prevail.

Jim and Greg. Lillian and Rosie. Jim and Lillian. Greg and Rosie. My dad's best friends. Lillian, elegant and statuesque. Rosie, motherly and all smiles.

Jim and Greg pay more attention to my dad than to their wives. They stand in their little circle. First to set up the poker table. They're like kids.

My old dance teacher enters wearing an all-violet ensemble. She is 40 years old, single, and earning a degree of some sort. I like her. She is open-minded; it reminds me of my own mother. When she's dancing, you don't even notice that she is wearing purple pants or that she just had spinal surgery.

Tango. Waltz. The music goes on.

A man in a baby blue polo unabashedly stands alone in the corner while others do the two-step around him. My mom once teased me about marrying his oldest son. I would never. He is 10 years older than me and in love with his car.

Jazz. Salsa. Ladies in sparkly skirts and dancing shoes. Some elegant, some a mess. Men in funny-colored Polo shirts.

My friends are probably out partying somewhere. What a lame way to spend my Saturday night. At least I don't have to get up the next day and go to Chinese school anymore.

Mongolian music starts. Good grief, they're all marching now.

At least now I can look on at their weekly gatherings and grammatically incorrect e-mail notifications about said gatherings in good humor.

I've got second-generation written all over me. Oh, Chinese-American experience. Would I give it up if I could? No, probably not.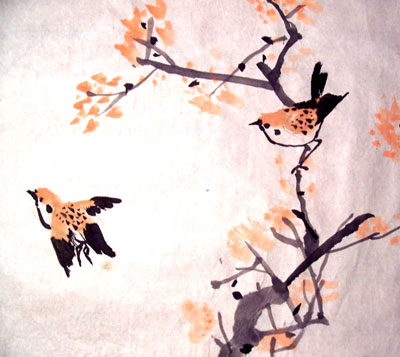 © Xiao H., Naperville, IL